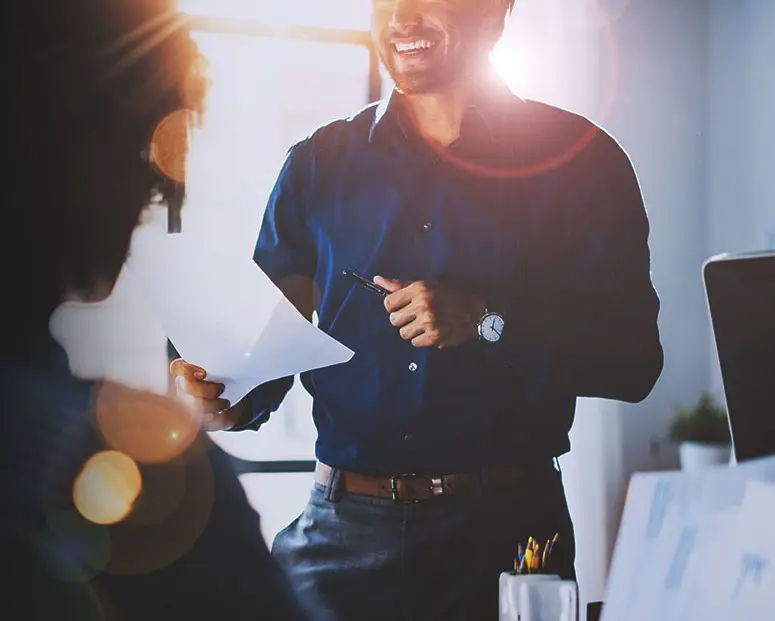 Meet the Insiders: Rob Davis, TES Enterprise Solutions
Added Monday 08 May 2023 by TES
As part of our ongoing Meet the Insiders interview, we caught up with Rob Davis, Managing Director of IBM Business Partner, TES Enterprise Solutions. TES specialises in designing Enterprise technology, secure-first (zero trust), high performing IT solutions using the latest technologies from IBM and select partners.
We asked Rob about how he got into the industry and where enterprises are focusing their attention to prepare post-pandemic.
How did you get into the industry?
 I've got a commercial background in IT and started my career in the brokerage and leasing market for used IBM equipment in the late 1980's. From there I moved into the channel - as the mainframe was beginning to be sold via that route. After a long stint in account management and client facing sales roles, I took the opportunity to bring those skills to TES in 2018 to work with some of the leading mainframe solution experts in the channel.
Tell me about TES
We have a core team of people at TES that each has, on average, 30 years experience of designing mainframe and Enterprise ready solutions. We started with three principal consultants in 2012 and a decade later we now have 20 employees, primarily all IBM purists, with the ability to support a full suite of hardware, software, implementation services, maintenance and consulting solutions.
Mainframes are ridiculed as being outdated. However, they are rarely, if ever, hacked and as such security is at the heart of everything we design and deliver. We create zero trust solutions whilst embracing emerging, newer concepts so that we enable the best business transformation experience and IT efficiencies for clients.
Our solutions scale, so that they are cost effective and as demand increases, costs don't skyrocket. At the beginning of lockdown, many companies spent their entire IT budget for FY20 in the first half of the year as a result of having to react to changes in business priorities. Knowing that your infrastructure can scale with demand both cost efficiently and securely is core to our solution designs.
How has TES grown?
TES has a long legacy of working with its clients, the majority of which do have mainframe but we also work with POWER systems and all associated storage product. Our knowledge allows us to take everything we've learned and put it to use with new workloads and solutions for both end user clients and also the many Service Integration and MSP partners that we support. We're most excited about the recent launch of the new z16 mainframe together with the potential of IBM LinuxONE and Hybrid Cloud.
Where do you think growth will come from in the next few years?
We see four main areas of growth for TES.
Firstly, there has been a rush to develop/deploy everything in the cloud but a lot of businesses are realising its not always most appropriate and are bringing some of the cloud apps back in house into their own data centre, especially around critical processes like security. Clients are starting to believe a cloud-first strategy is not a one-size fits all and are questioning if cloud-first applies to all parts of the business. Resiliency, availability and ransomware have put a spotlight on the benefits of embracing a hybrid cloud strategy instead. In some instances, clients are seeking to repatriate mission critical processes.
The second area of growth is in IBM z16 which offers some exciting, unique technology capabilities to equip clients to deal with tomorrow's challenges, today. Quantum safe computing and the ability for real-time inferencing for 300 billion transactions per day, with near zero latency on the Telum chip are two such examples.
Third, ransomware and digital transformation is causing many more businesses to revisit their infrastructure and think more about security and resiliency – the need for 99.9999% uptime remains critical to any enterprise.
Finally, regulatory demands are increasing. Organisations must retool their environments if they want to stay ahead and be compliant. These include; the Digital Operational Resilience Act (DORA) within the financial services industry, ISO 20022 which regulates an international standard for exchanging electronic messages between financial institutions and the NIS2 directive, driven by the need to increase security. We have solutions in all of these and other areas too.
What has been your biggest achievement?
There isn't one thing I can point to, it's a series of small successes that amount to an overall sense of achievement. Ultimately, I judge our success by whether we manage to solve the client's problems and address their challenges. If we do, then that is a big achievement and I feel good about that. We've had some big client deals along the way, some upwards of £20 million but we recently won the IBM Beacon Award 2021 for Best Hybrid Cloud Solution – and that feels like success for the team too. Our focus remains on doing the right thing for our clients, with integrity and transparency.
What makes you different or stand out from the competition?
We provide solutions that are built for purpose with a pragmatic view of the challenges the client faces – including a future path for growth.
We have some exceptionally long-standing relationships with both clients and partners. I think that comes from really getting to understand the client's problems/challenges and then working to exceed their expectations. We are trusted, our advice and expertise is trusted and we are trusted to continually help our clients navigate the complexities that can exist when dealing with large vendors like IBM. It sounds like a cliché to say 'we go the extra mile' but essentially, we really do, and our clients are always very pleased.
If you could give one piece of advice for someone getting into the industry what would it be?
You've got two ears and one mouth! Only when you understand the roles that everyone plays and how you can all work together to get the right outcome do you get success. It's a bit like a team sport – you have to know everyone's strengths and weaknesses and how you all fit together to succeed.