Added Wednesday 22 December 2021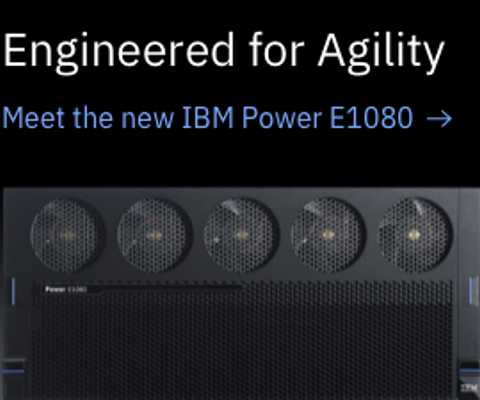 Announced in August 2020 and launched in September 2021, IBM Power10 is the latest generation of Power servers designed for maximum power, security, reliability and scalability.
The first model, released in September is capable of any enterprise workload needing improved performance or lower ongoing costs. It can scale core operations and AI applications across the hybrid cloud while significantly reducing the datacentre footprint.
IBM's Power10 systems can speed up processing up to four times faster than many larger enterprise systems and has the highest level of hardware-based cybersecurity protection capabilities. Its systems are designed for both large and small enterprise apps – with the ability to deliver the highest levels of availability, security, performance and scalability. Organisations that are navigating constant change to their operations and customer demand need an agile, flexible, scalable and secure infrastructure to underpin operations. With IBM Power10, they can achieve a number of operational goals.
Agility
Response to business demands is faster and more agile with Power10 with more efficient scaling without requiring energy or footprint increases. The IBM Power10 generation of servers is designed to make technology consumption a frictionless experience. With Hybrid Cloud Credits, enterprises can buy pay-per-use capacity that can be utilised across Power Private Cloud and Power Virtual Server. The architectural consistency across these environments gives the flexibility to deploy where and when its needed without requiring additional middleware or application re-factoring.
Streamline automation
It's much easier to extract information and insights from an enhanced in-core AI inferencing capability in every server. Power10 provides a secure way to extract the insights from where the data resides, reducing time and risk involved in data movement. The typical AI deployment involves sending data from an operational platform to a GPU system. This usually induces latency and may even increase security risks with more data in network. Power10 addresses this challenge with in-core AI inferencing and machine learning. 
Security
Protect data from core to cloud. With data held in a distributed environment it's difficult to keep a perimeter around it, reinforcing the need for layered security across the IT stack. Power10 family of servers introduces a new layer of defence with transparent memory encryption. It supports end-to-end encryption across hybrid cloud using memory encryption at the processor level — without management overhead or performance impact. It also protects from future threats with support for post-quantum cryptography and fully homomorphic encryption.
Maximise reliability and availability
to the ITIC 2020 Global Server Hardware, server OS reliability report, IBM Power has 25% lower downtime versus comparable high-end servers. It has advanced recovery, diagnostic capabilities, and Open Memory Interface (OMI) attached advance memory DIMMs. The continuous operations of today's in-memory systems depend on memory reliability because of their large memory footprint. Power10 DIMMs deliver 2X better memory reliability and availability than industry standard DIMMs10.
IBM Power10 allows organisations of any size to respond faster to business demands, protect from core to cloud and streamline insights with a frictionless hybrid cloud experience that provides infrastructure that underpins business growth and success.