Added Thursday 21 January 2021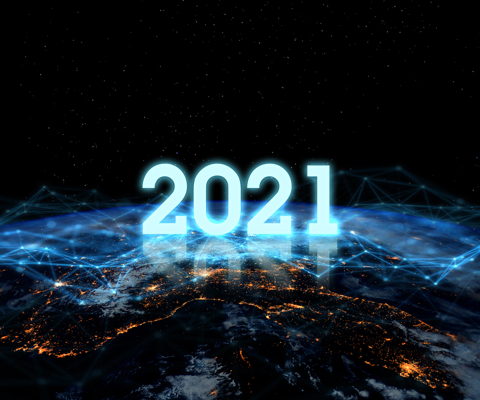 2020 was undoubtedly a year like no other. As the world went into lockdown and huge numbers worked remotely, technology was vital to keep business going. Companies were forced to find new ways of working, and shares in technology companies involved in video conferencing and collaboration went through the roof.
For those of us who were born in the pre-digital age, when email wasn't a thing, and mobile phones came in a briefcase, the fact that we could (in many cases) work from home with little interruption showed how far the world has come in a relatively short time.
Given the pace of change in 2020, we were interested in what might happen in 2021. We caught up with contacts from across the industry to hear what they thought the trends would be this year.
"Without doubt, the biggest tech trend of 2020 was technology that allowed people to work from home. You only have to look at the usage statistics of Zoom and Teams in the last nine months of 2020 to see the adoption and traction that these technologies gained as business adapted to remote working." Rick Norgate, managing director, Predatar told us.
"Throughout 2020, Predatar saw many businesses that have typically shied away from the cloud, such as finance and medical, have no choice but to embrace not just one but several different cloud providers to ensure home workers got the tools they needed while ensuring business continuity. We are already seeing this move to a multi-hybrid cloud infrastructure continuing to grow and even accelerate into 2021."
Driven by lockdown, many retailers have already expanded their fulfilment options. Paul Mason, associate partner, Retail Reply told us that he expects to see this trend continue in 2021, as it reflects the continuing consumer trend for more 'on demand' services and convenience across all sectors.
"Being able to offer multiple fulfilment channels increases sales opportunities and decreases the potential impact of disruptions such as Covid-19.
"The sort of things we saw in 2020 which are likely to continue in 2021, include: Deliveroo and Uber Eats for online grocery deliveries – allowing supermarkets to tap into well established logistics infrastructures that can deliver food faster than they're able to fulfil orders themselves. Beelivery offering same day grocery deliveries, curbside pickups and an increase in pick from store for home delivery plus an increase in D2C – for example, Heinz offering their range of "family favourite" brands.

"In the last two years, we've worked with many clients to develop more robust hybrid supply chain models - balancing between Push (Build to Stock) and Pull (Build to Order). These hybrid models support the sourcing of products all year round. Predominantly, we suggest the 'Push' model for sourcing goods from remote regions, which have a lag time of more than 20 weeks and 'Pull' model, for sourcing goods locally or from neighbouring regions. This hybrid model will help offset the lag time between sourcing regions. This flexibility is likely to become even more important in the wake of Brexit."

When it comes to sustainability, Mason explained: "There will be a continued increase in the emphasis on environmental impacts of supply chains. This will include factors such as the amount of packaging used, the climate impact of raw material and sourcing policies, and the move to electric vehicles to help reduce pollution in towns and cities. Sustainability has been at the forefront of retail in recent years, but with online now the main sales channel in the wake of the pandemic, issues such as excess packaging, and the environmental impact of deliveries are going to be highlighted even more in 2021. Also, lockdowns have sparked a movement of "belief-led" buying among many consumers – i.e. opting to buy and support local as much as possible."

When it comes to finance, Mike Jeffrey, analytics pre sales manager, MHR Analytics, told us he sees transformation in the sector that will result in a further acceleration in the adoption of cloud solutions.
"There will be an increase of interest in finance transformation, as companies of all sizes re-evaluate current processes in both transactional and performance management areas in readiness to plan and report in an uncertain future. This could be the automation of an existing spreadsheet planning process, to a root and branch review of all current technologies and processes."
Mo Khan, director, Cognova Solutions agrees and added that the continued impact and recovery from the pandemic and Brexit will have two major effects on the decisions Finance teams will make concerning their Finance System Solutions.
"Any new solution will need to be quick to implement and quick to adopt, with minimal external resources and training, i.e. it needs to be delivered remotely. "he told us.
"And as companies try to manage their financial recovery and understand the impact of world changing events, they will need instant, seamless data for analysis from a system where the cost is coming from the OPEX rather than CAPEX line in their financial statements. Companies may not have the longevity or collateral to afford long term expensive solutions that they can depreciate over time nor the upfront costs of swathes of external consultant teams over-managing a project. With these factors in mind, we see the accelerations in existing trends in 2021.
"The first of these is Cloud Solutions. By this, we mean solutions that are truly cloud-hosted and subscription-based. Vendors are slowly providing this, but they still need to go further. They are very few who are really delivering on true Software as a Service (SaaS) within the financial software solutions arena and this will need to change. Finance and IT teams will be looking to control costs closely. A subscription, on-demand based service will always be flexible to current needs and budgets and can be increased/decreased accordingly. Server space, hosting and all other static IT facility costs can be sacrificed whilst accommodating a workforce that is increasingly working from home.
"The second is data analytics. Businesses will require readily available data that they can analyse instantaneously. This data will need to be seamless and easily integrated into existing client technologies. Of course, all companies have only ever wanted their management information "fast", but we believe that this is expediting. Companies will need to transfer and slice and dice their data into 'live' snapshots to see the immediate impact of exceptional events and changes, as well as be able to quickly respond with multiple forecasting scenarios. Data analytics solutions will need to demonstrate their agility and usefulness now more than ever."
As we enter 2021 in another national lockdown with a work from home mandate where possible, it seems that the trends we saw in 2020 will continue. All of our contributors agreed that cloud adoption accelerated in 2020, even in industries that had been slower to adopt and that is set to continue.
Whilst we don't have a crystal ball, one thing seems certain, 2021 will be another big year for technology adoption and the normal we move into will be a more technically advanced one than before.