Added Thursday 19 November 2020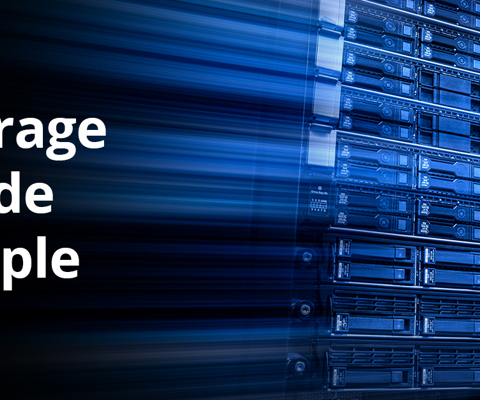 As 2020 draws to a close, we've taken a look back at the big IBM FlashSystem announcement and what it has meant for businesses that increasingly operate hybrid environments with multiple systems, apps and endpoints they collect increasingly more data that must be secured and stored safely. Choosing how to store data depends upon a number of factors, but not least, how large and complex an organisation's IT environment is.
Historically storage solutions were chosen based upon which features an organisation needed to suit their unique requirements, so it made sense that the solution they chose had to be unique to match them.
At the start of 2020, IBM storage updated its FlashSystem family making it faster, more economical in its protection policies, more resilient and automated for workflows. But probably the most significant innovation in the new product range was that each system runs the same software stack – providing one software and one API to manage.
The changes simplified things considerably without compromising functionality or performance.
The IBM Spectrum Virtualise software stack provides the same 'enterprise class data services' for entry-level up to its high-end systems, whilst also enabling non-disruptive data movement and cloud and container deployments with supported storage. Providing consistent API's for automating the provisioning and management of storage, supporting approaches including bare metal, virtualised, containerised and hybrid multi-cloud workloads.
When the products launched in February, The IT Insider spoke to technical account manager, Steve Horobin, who told us: "What we have is the latest announcement of IBM's software-defined storage offering. As with all storage controllers in the marketplace, the intelligence is in the software, or operating system as some people call it. This is where all the intelligence lies, all the features and functionality.
"The updates are mainly in the area of speed increases. Data reduction Pools (DRP) have gained the most significant benefit with some 2.5 to 3 times improvement in speed. This translates in to 25-30% improvement in read and write bandwidth."
IBM also announced new offerings with its FlashWatch programme which includes high availability guarantees, data reduction guarantees, cloud AI analytics, Flash endurance guarantees, Flash Momentum program (free system upgrades after 3 years), and finally no cost 90-day data migration options. This far exceeds anything any competitor has in the marketplace now and is definitely worth further investigation.