Added Friday 17 April 2020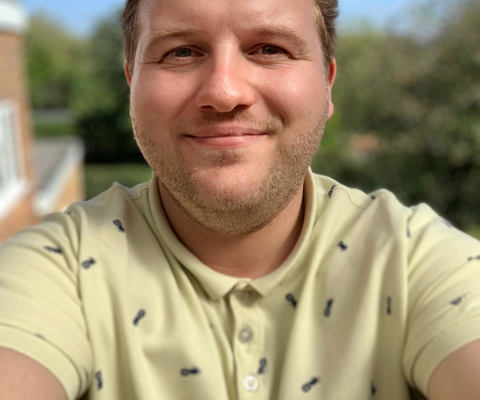 Coming from a family of serial entrepreneurs, some would say it was a fait accompli that York Woodford-Smith would inherit that spirit and start a business of his own. Following years of hard graft freelancing, York's passion for media led him to establish Five on a Bike, and explore how video can be made more accessible to all…
Tell us about your career path from freelancer to business owner…
Coming from a family of publicans, training to be a chef wasn't too much of a stretch in terms of the career path I thought I would take. However, as much as I loved cookery, it wasn't long before I felt there was a better way to channel my energy and use the long hours. With a degree in TV production, I secured a job at a production company, and quickly went freelance. I worked my way around the world, discovered my niche, and started putting together a business plan which became Five on a Bike.
Who is Five on a Bike?
'Be brave with video' is an ethos that we swear to live and work by. We create videos that we are really proud of for our clients. We produce all sorts of content, from corporate videos, animations and TV adverts, to livestreams.  A great example of the value we add is a project with a brief to help a FTSE 250 company overcome a recruitment challenge. We developed a £6k campaign that smashed expectations, filling around 200 roles. We got a mention in their financial report to boot, as it made them about £32m! That's the power of being brave with video.
What next?
Good quality video production takes skill and investment in the right tools. Increasingly, businesses have a desire to use video – for example on social media, or their website, to help with training or internal comms etc – yet cannot justify the cost. To overcome this challenge, utilising IBM's Enterprise Video Platform, we are developing an AI tool that will allow businesses to create bespoke video and will effectively take the cost out of production. It's really exciting to be working with a partner of IBM's calibre, and to be on the cusp of launching something that will really revolutionise digital video capabilities for the masses.
What's your advice to businesses when it comes to video?
My first piece of advice is, be brave and harness the power of video. The second piece of advice is around 'unlisted' videos posted to YouTube. Many companies host their videos this way, which means they exist on the platform but don't come up in search pages - they are only accessible via the private link – the result of this approach is massive opportunities to engage are missed. The other side of this, is that video often holds as much sensitive data as a document, yet it is considered acceptable to post this content to a public hosted service. By using a formal platform, you keep control, and your data safe and secure.
Finally York, what advice would you offer someone looking to embark on starting/building a business?
There have been three key things I have learnt along the way, and they are all linked when I think about it. The first is learning to let go; and I mean really let go. You need to trust the people that you employ, to do the job that you employ them for, trusting them implicitly (while always being supportive of course).
Second is understanding how best to use my time. You need to trust the people around you and not waste time double handing stuff someone else can do. See it comes back to being able to let go!
Finally, it has been learning how to deal with stress. The stuff that keeps you awake at night. Doing the best by staff, clients and suppliers. I have learnt a lot about stress and how to cope with it as a clear head and focus are key to driving the business forward and remaining sane.