Added Friday 01 May 2020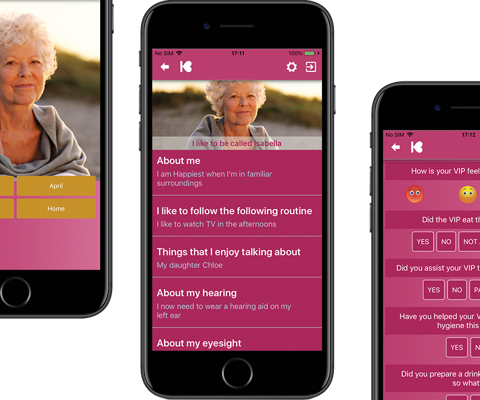 As life expectancy increases, so does the burden on social and healthcare services. However, for many vulnerable older people, and those in the early stages of dementia, there is a compelling case for them to be allowed to stay in their own homes rather than move into residential care settings. In fact, familiarity and remaining independent is often a vital part of maintaining their wellbeing. Increasingly, assistive technologies are playing a critical role in enabling people to live and enjoy life safely.  
UK predictive care management start up Karantis360, working with IBM, has developed a solution that uses artificial intelligence (AI), machine learning (ML) and IoT sensors designed to actively monitor patterns of behaviour of vulnerable people living at home. Using analytics based on various sensor data it keeps a 'watchful eye' and flags anything that is out of character and anomalous. For example, someone with dementia who has left the property at an unexpected hour or has become less active than learned behaviour expects.
Smart safeguarding
Helen Dempster, founder and chief visionary officer of Karantis360 said: "The solution was developed as a result of personal experience and seeing an opportunity to make a real difference. We wanted to create a solution that allows people to receive the care that they need and deserve whilst maintaining their dignity and independence. We have developed something that goes far beyond technologies that work on pressure sensors and alarms. Our application learns each individual's pattern of behaviours – as everyone is different – and if there are changes, alerts are sent to the care provider and the family via an app on their smartphone which allows them to then take the appropriate safeguarding actions immediately."
The remote monitoring aspect of Karantis360's application has taken on renewed emphasis with the current situation around the world. Being able to safely monitor and shield vulnerable people in their own homes is vital to protect those that are forced to self-isolate while it is not possible to visit people. It also reduces the pressure on frontline healthcare services, freeing up carers' time to focus on the people that need priority help.
IBM gives international reach and ability to provision customers quickly
Helen continues "The beauty of working with IBM means that we are able to deploy and provision customers really quickly no matter where they are in the world given the global footprint of IBM data centres and that we store all our customers' data in the IBM cloud."
The solution, which is available across Europe, the USA, Hong Kong and China, has already been installed by several public-sector and private care providers in the UK including, York City Council and Consultus Care & Nursing. 
Remote monitoring delivers peace of mind
Karantis360 customer, Roberta Massi, president of Sole Cooperativa, based in Italy said: "It's extremely reassuring to have access to data which indicates the wellbeing of those in our care, especially during this situation, when it is crucial to keep our eye on the activities of daily living."
Helen concludes: "In unprecedented times such as these, it's crucial for us to come together to do what we can to support national and international efforts and ensure that every individual's health is cared for, no matter the circumstances. Together with our partners, we are able to offer a solution on a not-for-profit basis that can support the heroic efforts of health workers by enabling vulnerable individuals to stay safely in their own homes. It is especially important during this period, that families can be reassured of their ability to remotely monitor for changes in the wellbeing of their loved ones."