Finance Heroes
WHITE PAPER
Digital transformation in the financial services sector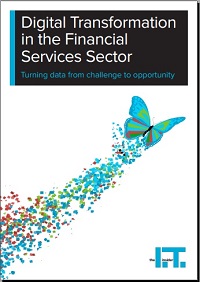 In this data-driven era, many organisations find themselves struggling to keep up with customer expectations and operational demands for digital transformation. The financial services sector is under particular pressure to embrace digital change, improving online services and streamlining internal processes to gain and retain a competitive edge.
This White Paper brings together in-depth insight, real-world examples and best-practice thinking from leading specialists across the IT industry to identify and address the key challenges faced by finance organisations today:
Tackling digital disruption – driving deeper customer engagement and innovating to stay competitive
Digital transformation allows organisations to push the boundaries of innovation for business growth. Bridge the gap between the data you have and the information you need to stay ahead of the competition.
Create value for shareholders by focusing on areas that offer profitable growth at low cost and risk
Fail to adapt and you get left behind. Move too quickly and you risk wasting time and money. Taking an integrated, hybrid approach to transforming legacy operations, undertaking new digital initiatives and securing your digital transformation ensures effective implementation.
Meet risk and regulatory compliance challenges head on
Combat fraudulent activity, take a proactive approach to managing data and risk, and help your organisation make a real impact.

Download this white paper today - helping your organisation to embrace digital change and accelerate future growth.