Added Wednesday 02 June 2021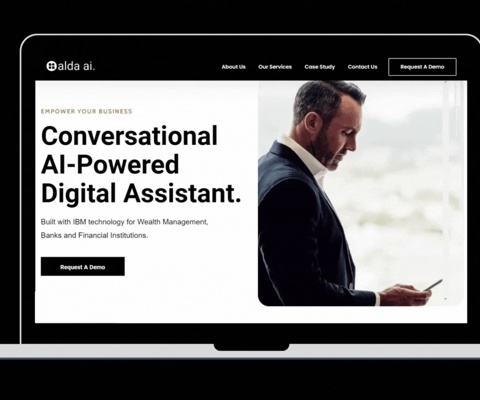 Award-nominated innovation and technology firm, INATIGO, has launched a conversational chat assistant solution, Alda Ai. Providing financial firms with their own fintech AI financial wellness coach as a service.
INATIGO's new AI financial coach expands Alda Ai's suite of AI innovation and product offerings which includes a financial well-being platform and an AI customer service assistant.
With the financial literacy gap affecting more people than ever. Consumers now look to financial firms to help them make better financial decisions. A study by Ernst & Young found that in order for firms to attract and build trust, they need to demonstrate their interest in their customers' long-term financial well-being in order to maintain or increase market share.
Some financial firms have initiatives to help their customers' financial well-being. However, the majority of people today consider messaging to be their favourite mode of interaction.
A study from Twilio found that "89% of consumers would like to use messaging to communicate with businesses. However, only 48% of businesses are equipped to communicate with their customers through messaging." Therefore most firms are unable to provide customer service or financial well-being in this form of communication because of a lack of resources and scalable innovation.
Alda Ai's digital chat assistants were built to provide scalable solutions and reduce time and costs for financial advisers, wealth management firms, and banks. Each Alda Ai virtual financial coach is already trained in financial literacy and includes years of industry specific data and is out of the box.
This one-of-a-kind AI-powered solution will help firms to digitally acquire, engage, and provide their customers or prospective clients with 24/7 financial literacy, financial programmes and human-like financial well-being guidance.
"In today's world technology and AI can and should be used to help firms and their clients effectively engage, support and communicate with each other. Our solution Alda Ai provides financial firms with new opportunities to digitally acquire new clients and embed their brand's support and values." explained INATIGO Co-Founder, Elemi Atigolo.
"Through this pandemic, we have seen the surge for on-demand approaches. With consumers becoming more tech-savvy than ever, the expectation for a more digitally enhanced and engaging experience has now become a prerequisite of any consumer experience. Simple contact forms and articles just don't deliver anymore." INATIGO Co-Founder, Ashlea Atigolo continued.
INATIGO hope that the new AI financial coach will change and democratise the financial literacy gap through the use of cutting-edge AI technology, IBM Cloud, and financial education.