Added Tuesday 02 March 2021 by Arrow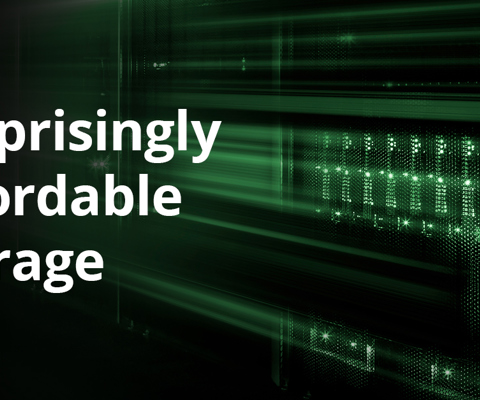 It's been 363 days since IBM's last product announcement back on February 11th 2020. Remember the one with the renaming of most of the Storwize range to fit in with the new FlashSystem naming convention?
Well, here we are a year later and we have a new hardware storage product announcement from IBM… and 2 product refreshes.
Ladies and gentlemen may I present the IBM FlashSystem 5200. 
Yes, the elephant in the room first, it's a 1U storage device. Quite a radical step for IBM to bring out a storage controller starting at 1U and 12 drives, but this is a very powerful system in a small enclosure.
Naturally the FlashSystem 5200 is designed around non-volatile memory express (NVMe) drive interface technology. New language, new interface, new breathtaking storage speed. All 12 bays on the front of the system are NVMe only.
The internal design is what you always expect from IBM. Dual controller (and active-active as always), dual-ported drives, dual power supplies, dual mirrored cache, multiple path host connectivity altogether ensuring no single point of failure in the entire product design. Would clients today consider anything less!

And talking of host interfaces, IBM offers 10GbE, 25GbE (supporting both RoCE and iWARP), and 16Gb FC and 32Gb FC. A 12Gb SAS option is also available for either host connectivity or expansion drawer connectivity.
Cache options are also available ranging from 64GB to 256GB and topping out at 512GB cache across the 2 controllers, with a recommendation of 256GB if you're going to implement in-line data deduplication as a space saving utility.  
In summary, I believe Aesop said "Good things come in small packages", this is indeed true with the IBM FlashSystem 5200.
Now we can dive in to the finer details and see how the system is assembled.
First, let's start with drive options.
Option 1. FlashCore modules.
IBM proprietary solid state storage modules. Integrated compression at no performance loss and also in built encryption securing all data at rest.
Options are 4.8TB, 9.6TB, 19.2TB and 38.4TB.
This allows 38.4TB x 12 modules delivering 460TB raw, in 1U!!!  Staggering. And considering the FS5200 can also be clustered creating 4 tightly integrated systems we can see 1.8PB of raw storage.
Is this enough for you?
Plus the system is capable of connecting to 748 drives in total. Shall we discuss bragging rights; this is 736 external drives across eight high density expansion enclosures each with 92 18TB drives. If my maths is correct, you have 13PB (yes, petabytes) of external storage on top of the 38TB internal. And all in 1 42U data centre cabinet.
Option 2. Solid State Drives (SSD).
IBM also provides a range of industry standard SSD drives. Options are 800GB (3DWPD), 1.92TB, 3.84TB, 7.68TB and 15.36TB.
Option 3. Storage Class Memory (SCM).
Small capacity but ultra-low latency storage modules. This technology can be installed within servers to bring storage closer to the processor. Why not utilise high investment SCM devices in the storage controller where this can be shared amongst a number of servers allowing more applications to take advantage of such technology.Options are 35GB, 750GB, 800GB and 1.6TB.
How about data protection options?
This all comes down to good old RAID technology surely. Well, no! IBM has developed a unique way of distributing data across a number of drives and offers the next level of data protection. IBM call this Distributed RAID, or D-RAID.
D-RAID is also unique as it doesn't require a hot spare drive to be made available within the system. A hot spare is desired by many clients. This is an expensive drive added to the system to simply sit empty, waiting for a drive to fail before it kicks in. IBM D-RAID configures drive recovery space across every drive in the system. It is customary to purchase 12 drives, say, and have 1 left as a hot spare. IBM utilises all 12 drives providing additional capacity and performance in the array.
How about host connectivity?
The FlashSystem 5200 is available with a number of host interface options.
Just to set the scene, every FS5200 comes complete with 4 10GbE ports as standard on the rear of the case, 2 per controller. These are simple RJ45 ports offering immediate copper cable-based switch connectivity, ideally suited to the client's iSCSI connectivity.
All other options for host connectivity are always purchased in pairs, 1 option for each controller in the rear of the unit.
Oh, and I forgot to add…
IBM also announced two enhancements to the FlashSystem 5010 and 5030 models. Remember these from a year ago when they were renamed from Storwize V5010 and V5030.
Well they now become the FlashSystem 5015 and 5035. These are new models. The internal intel processors have been refreshed with higher clock speeds and more cores now able to deliver between 25 and 35% more performance, albeit IOPS or throughput.
The FS5010 and FS5030 continue to be high volume storage offerings from IBM and this continues to be a feature-packed storage solution aimed perfectly at the right price point.