Added Tuesday 04 September 2018
Tighter data protection has made approaching prospects through low-cost, below-the-line channels, such as email, a tricky business. With customer acquisition harder than ever, retaining your existing customers becomes the top priority.
GBG, an IBM Partner specialising in identity data intelligence, is helping its clients to capitalise on data around 'life events' to retain customers, upsell to them and improve brand affinity. Rob Frost, Propositions & Solutions Consultant, explains…
Risks…
Typically, the 100 customers you have today will have fallen to 89 by this time next year, equating to almost total churn over eight years. A house move can present a particular threat. Customers use moving house as a prompt to shop around for services such as the utilities, insurance and communications, as well as household items, and are open to competitive offers.
A change of address can make customers dangerously liable to vanish without a trace, possibly leaving a trail of debts behind them.
With more pressing matters on their minds, even your best customers might not let you know they're going through the process of moving house. You may not realise you've lost them till it's too late.
…and opportunities
The good news is that a house move can also present a real business opportunity. Moving house is big business in the UK: 10% to 11% of consumers move house every year and spend £12 billion on products related to the move.
Your worst customer may suddenly metamorphose into one of your best. To give an example: a customer upsizing from a flat to a house may be in the market for a larger mortgage, a higher level of household insurance cover, unemployment insurance or a loan for big ticket household items, such as their very first lawn-mower!
Timing is key
Anyone who's ever undertaken a house move will agree it's one of the most challenging life events, both physically and emotionally. Showing that you understand where your customers are in their lives and that you're helping to reduce their stress will improve your credibility and brand recognition. We've seen an upswing in clients' NPS scores and improvements in customer loyalty.
But timing is all: send your message too early and it will bounce off the recipient, who isn't in the right frame of mind to absorb it; send it too late and you'll miss the boat. Make your offer hyper-relevant and it's more likely to be accepted. In this way, we helped an energy and communications utility to retain twice as many customers than in the past, doubling its retention rates from 30% to 60%. 
The reverse is true: getting it wrong with unsuitable offers and promotions or sending them to the wrong address is not just a waste of marketing energy and budget; it can damage your reputation, too.
Choosing the right moment in time
How do we know all this? Through Moments in Time (MinT), a feature of the GBG Datacare solution, we collate and analyse data from multiple sources. In the case of house moves, sources would include estate agents and solicitors. We then apply the intelligence of IBM Watson to help clients plan and test their communications and judge the right time to contact the customer.
GBG's Moments in Time (MinT) home-movers data covers 90% of purchase and rental transactions in the UK. In compliance with data protection legislation, the data is not personalised; it's address-related. It would then be matched against your own database, which has been acquired through consent. This will identify customers who currently represent a risk or opportunity. We can also provide data to help find lost customers, so you can re-kindle those relationships.
Products purchased during the home-mover journey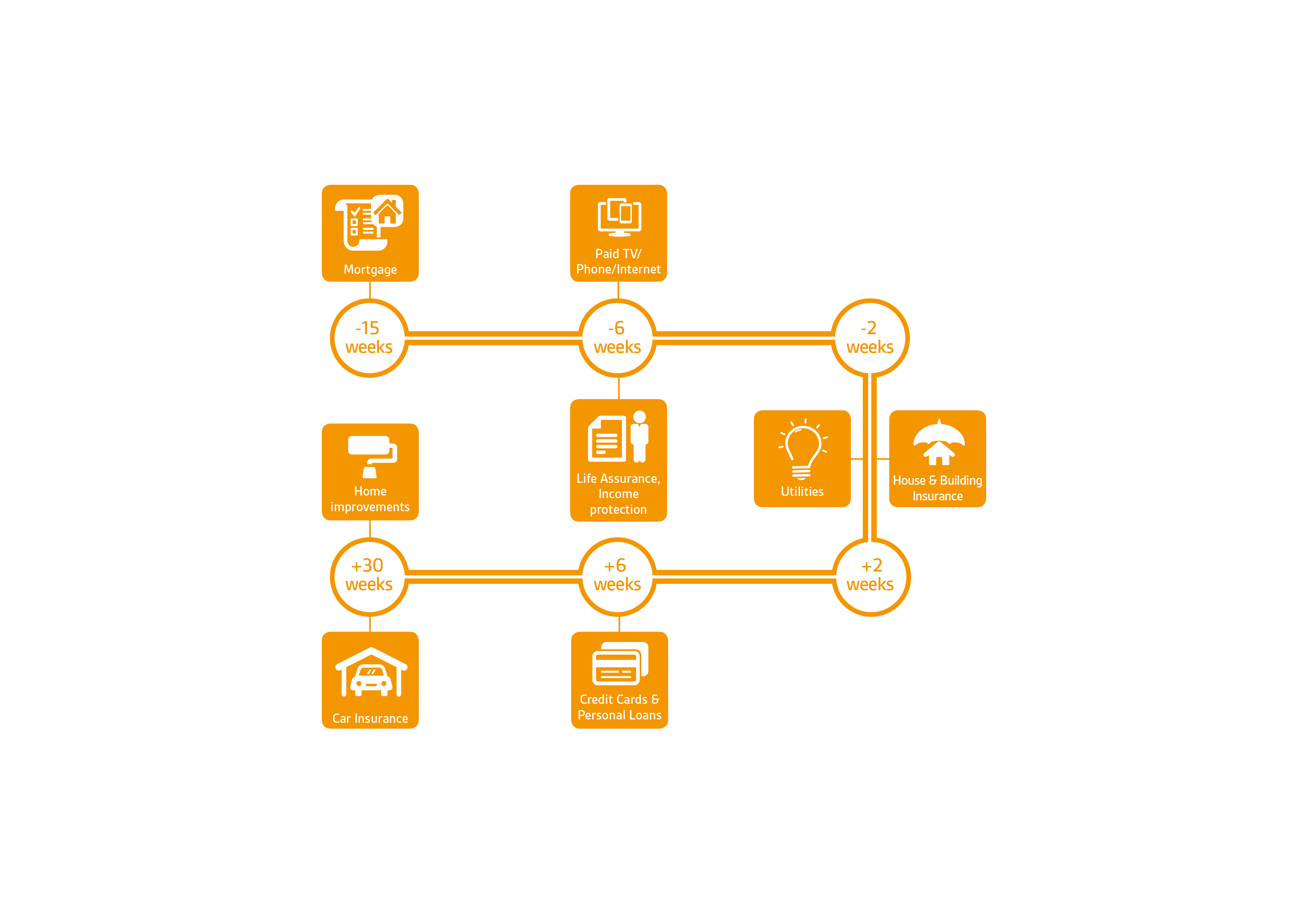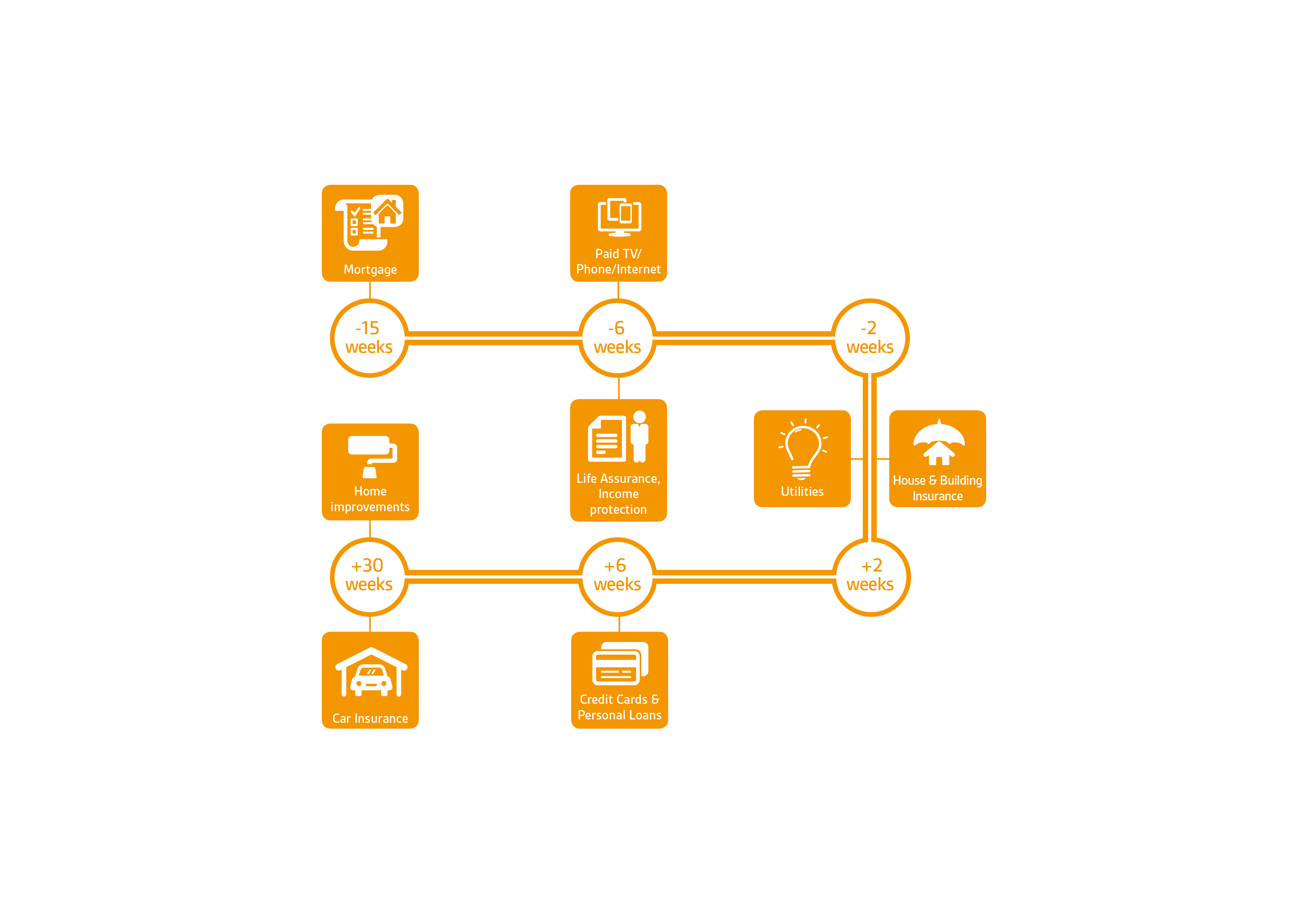 Event-driven marketing gets better response rates
Moving house is just one of the major life events that can generate opportunities for companies equipped and poised to make their message resonate: getting married (or divorced), becoming a parent, starting a new job or facing redundancy… these can all change behaviour.
MinT helps our clients to be proactive in tailoring their message when customers are facing a major change in their lives. Email open and conversion rates increase when using event-driven strategies – in some cases this has shown to be as much as a five-fold increase in response rates.
Your customer may use a significant life event as a fresh start, an opportunity to look around or re-invent themselves! Make sure you don't get left out in the cold. Let us demonstrate the business value of monitoring life events.
To find out more, visit our website.