Added Monday 19 March 2018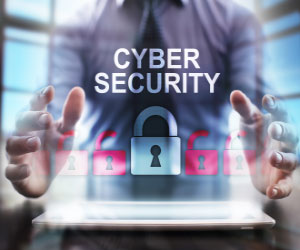 Watch the
video Visit the
website
It seemed particularly pertinent to be writing this blog in the week that Theresa May outlined her vision for education in a major policy speech – placing an emphasis on the need for more vocational and technical qualifications, at a time when UK university tuition fees are amongst the highest in the world.
This follows the Chancellor's announcement back in November 2016 that they would be providing £1.9bn of support over 5 years to help promote "excellent partnerships with industry and academia". A key focus of this commitment was to support the UK's growing cyber security industry – helping to develop a world-class cyber workforce that would be in a position to deter and defend against the growing threat from cyber attacks.
Plugging the skills gap
A survey by the Centre for Cyber Safety and Education™ revealed that the world will face a shortfall of 1.8m cybersecurity workers by 2022 - an increase of 20% on the 5 year projection made in its 2015 Global Information Security Workforce Study. Coming in the wake of the UK Government Cybersecurity Strategy describing Britain's cybersecurity skills gap as a "national vulnerability that must be resolved", the findings show that 66% of UK companies do not have enough data security skills to meet their business need.
Action speaks louder than words
So the problem undoubtedly exists. The question is what we do about it. For Satisnet, an organisation that has always focused on developing cyber security skills across UK business, the answer was relatively straightforward and 2018 will see us opening two new Security Operations Centres (SOC) in partnership with UK universities.
Sheffield Hallam University
In collaboration with Sheffield Hallam University (SHU), Satisnet have developed a Degree Apprenticeship in Cyber Security – one of the first of its kind in the UK. This includes the creation of a fully equipped SOC where enterprise information systems (websites, applications, databases, datacentres and servers, networks, desktops and other endpoints) are monitored, assessed and defended. This allows learners to experience practical cyber security operations on a day-to-day basis. The SOC may also be used to demonstrate cyber security solutions and technologies to external organisations, often using SHU degree apprenticeship students.
Principle Cyber Security lecturer Paul Wheway at Sheffield Hallam added "this ground
breaking SOC and security training initiative we are developing with Satisnet brings cyber
security to all, we must not just be technical, we must also focus on management, end users
and supply chain"
Edinburgh Napier University
Satisnet have also partnered with Edinburgh Napier University to launch a SOC north of the border, which will integrate advanced scenarios around cyber security, ransomware, Denial of Service and insider threats - enabling essential training in how to defend against these kind of attacks.
Prof Bill Buchanan OBE, who leads Edinburgh Napier's Cyber Academy, says, "The collaboration with Satisnet highlights that we aim to use the most advanced systems and tools possible, and to train a wide spectrum of roles into how the students can identify threats and then cope and respond to them".
Richard Macfarlane, who leads the GCHQ-certified MSc at Edinburgh Napier University, outlines that, "We have focused on creating environment for our students to learn in a safe environment, and one which contains state-of-the-art tools and mimics real-life systems and scenarios.
Basil Manoussos, who manages The Cyber Academy at Edinburgh Napier University, says, "We are currently training a wide range of staff within the Scottish Government, and generally on increasing awareness in coping with incidents. This collaboration provides us with new training methods which allows teams to train around real-life scenarios and see how they cope".
University of Wolverhampton
Having been awarded £192,000 by the Higher Education Funding Council for England (HEFCE) to develop a range of cyber security courses that would appeal to anyone from entry level through to experienced consultants and practitioners, The University of Wolverhampton has worked in partnership with Satisnet to develop an innovative and interactive learning environment. With options ranging from specific technical modules through to a Master's Degree in Cybercrime offered as a weekend learning course, Satisnet's CyberKombat software mimics real-world security architectures to provide a cybersecurity modelling, development training, testing and certification environment.
And it's not just happening in the UK. Developed by The University of Texas' Centre for Infrastructure Assurance and Security (CIAS), even primary school children are now able to start to learn critical cyber security skills, through a simple card game called 'Cyber Threat Defender'. Children as young as 4 years old are introduced to the terminology and basic security principles that could prove critical for the workforce of the future.
Are you ready to face the enemy?
With the new General Data Protection Regulation (GDPR) coming into effect in May 2018 - legislation that means companies will have to respond within 72 hours of any data breach – having access to this type of innovative Security Operations Centre will be critical in enabling organisations to train their staff effectively on how to cope with an incident.
As highlighted in our previous blog for The IT Insider – 'Attack is the best form of defence' - keeping up with the changing threat landscape and recruiting and retaining the cyber security skills your business needs is a major challenge for any organisation.
Whether it's a challenge that you're already prepared for, or one that still keeps you awake at night, I'd like to think that reading this blog has given you confidence that the future of cyber security in the UK is moving quickly in the right direction.
Next Steps:
Visit the Satisnet website to:
Watch the
video Visit the
website