Added Friday 28 September 2018 by Arrow
The increasing focus on driving valuable insight through analytics, combined with the rapid growth in data sources and volumes, means that data governance is one of the biggest and most pressing challenges facing business leaders today.
In their 2018 Global Data Management Research Paper*, which considered the views of more than 1000 employees with knowledge or visibility of data management issues, Experian highlighted the following key findings:
55%

believe that data has

greatly disrupted

their organisation in the last year

73%

agree that it is often

difficult to predict

when and where the next data challenge will be

68%

believe that increasing volumes of data make it

difficult to meet their regulatory requirements
72%

believe that GDPR presents an opportunity to

refine their data management strategy
83%

see data as an integral part of forming a

business strategy
75%

say they have seen

return on investment

from their data quality solutions
The growing business need for data governance
With increasing data volumes from more and more sources, organisations are faced with data inconsistencies that need to be identified and addressed, to avoid making decisions based on incorrect information.  There also needs to be a common understanding of data across the organisation, based on a common business language, to meet the demand for more self-service reporting and analytics and enable cross-departmental analysis and decision-making.  
Meanwhile, the continuing impact of regulatory requirements such as GDPR are making it even more important to have a strong handle on what data is where, and how it's being used.  According to an IBM and BizTechInsights Survey into Unified Governance & Integration, the top priorities for business leaders over the next 12 months are as shown in the following graphic: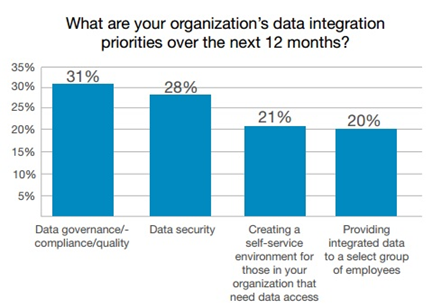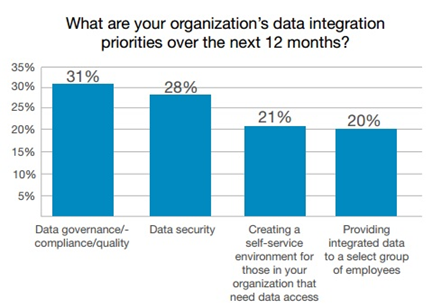 The further organisations venture down the path to digital transformation, the more business leaders become aware of the benefits of data governance  - ensuring secure access to trusted data, whether it's held on premises or in public and private cloud environments.
Data Swamp, or Data Lake?
Without a clear and unified governance strategy to control and manage the quality of data, it's simply not possible for an organisation to find, trust and use their business data effectively.  Any investment in advanced analytics, AI or machine learning will fail to deliver adequate business value – leaving organisations with a data swamp as opposed to a data lake! With unified data governance, your organisation can have confidence that data is not only clean and relevant, whatever its origin, but that it can easily be found, accessed, managed and protected – residing on a platform that's both secure and reliable.  This will enable you to:
Empower data users

within your organisation to make smart, data-driven decisions, with self-service access to trusted, business-ready data.

Manage growing data and costs

more effectively by moving away from traditional storage to a platform that can scale in line with changing demands and handle any data type and structure.

Prepare and transform data faster

b

y moving structured and unstructured data into data lakes.  This will save time and resources spent on data preparation and transformation - empowering your IT teams to focus on innovation.

Implement data security and compliance

in a consistent way across your

data lake, making it far easier to meet increasingly stringent regulations and compliance requirements.
What's the next step?
Managing data integration, governance and quality as a unified solution is no easy task, but one option is to invest in a platform such as IBM Information Server, which is designed to leverage the scale and promise of data platforms such as Hadoop – ensuring you maximise the return from your investments.  You can find out more about this solution by watching the following video, or downloading the Solution Brief below.
Want to explore this subject further?
Steve Harries is Software Business Development Manager at Arrow ECS – a leading global technology partner for enterprise computing solutions.  If you'd like to explore how a unified data governance strategy could benefit your business, you can contact Steve directly by email at steve.harries@arrow.com.