Added Wednesday 19 September 2018 by Purple Square Consulting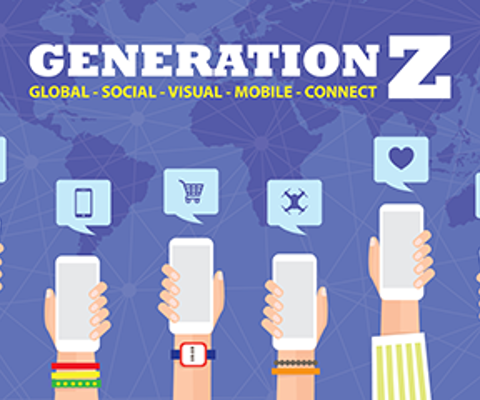 Trying to get inside the mind of a teenager is most people's idea of a thankless task. Let's face it, they're fairly impossible to communicate with and even if you're willing to give it a go (perhaps they're your own children and you don't have a choice?), do they actually want you to talk to them? As a marketeer though, you ignore them at your peril. Commonly referred to as 'Generation Z' and following hot on the heels of Millennials, those born after 1996 are the next wave of customers. It's no surprise that they are exceptionally tech-savvy, having grown up in a world where the internet, smartphones and mobile devices have always existed. But there are also a number of more surprising things about Generation Z that every marketing team and business leader should know.
Did you know . . ?
Generation Z have a 'Fast Filter'
One much used statistic about GenZ is that they only have an 8 second attention span. But how should you interpret this? Are they genuinely disinterested, or is there something deeper at play? They've grown up in the era of 'fake news' so are very quick to recognise information that's overtly biased or simply untrue. They also live in a world where the level of information they're exposed to on a daily basis is unprecedented, so they've simply had to develop a 'Fast Filter' – making quick judgement calls on whether something is relevant to them or not.
Generation Z prefer to shop in-store
According to a recent research study by the IBM Institute for Business Value in association with the National Retail Federation (NRF), 3x as many GenZers prefer to shop in store rather than online. However, they use mobile devices to research products, prices and promotions in advance and also place a high value on the opinion of family and friends. Generation Z expect technology to add real value to their shopping experience – enhancing speed, service and value for money, with seamless digital integration across every channel.
Generation Z want to engage and collaborate
GenZers want to be able to customise their individual experience, which means that brands need to be engaging and innovative in their use of technology. A high percentage of Generation Z use social media and messaging apps to chat and communicate with friends and family, meaning that there's a great opportunity for brands to interact individually with GenZers through these channels too – targeting them with relevant information and promotions. Machine learning and artificial intelligence (AI) has significant potential for those organisations that want to gain an insight into a customer's individual preferences, but with Generation Z particularly cautious about the level of personal information they're prepared to share, there's a definite need for brands to gain trust over their data protection strategies.
What steps do you need to take when engaging with GenZ?
Develop a real-time, mobile-focused strategy that gives you a competitive edge
Introducing new functionality such as chatbots, social interaction and gamification will enable you to engage with GenZ in a way that makes them want to interact with your brand – sharing invaluable information that will give you a real insight into their individual lifestyles and preferences. The latest advancements in customer experience analytics enable organisations to gain a complete picture of cross-channel customer journeys – identifying potential issues and opportunities to improve customer experience throughout. Bringing these insights from multiple channels into a unified dashboard enables real-time decision making to optimise journeys, boost conversion and maximise profitability.
Let GenZers shape their own customer experience
Building interactive capabilities that tap into Generation Z's entrepreneurial spirit will help you to capture their ideas for new product design and development, whilst strengthening their brand loyalty. Real-time personalisation solutions can help you to improve customer experience and make invidually targeted marketing easier by learning through each interaction and delivering the right content to each visitor in the context of their previous interactions with the brand. Campaign automation solutions are also available to help you create consistent, personalised marketing campaigns across email, web, mobile, SMS, social, group messaging and more. You can leverage AI-powered insights and capabilities to deliver the right message and offer at the right time and through the right channel to gain the loyalty of GenZ customers.
Ensure a safe online environment, based on trust
GenZers want control over their personal data, so it's important that you let them choose when, how and what they want to share. Being transparent about your policies for data collection, storage and usage is key – letting them know how seriously you take their rights to data privacy and protection.
Want to explore this subject further?
Purple Square Consulting has established itself as one of the world's leading professional services organisations, recognised by IBM as the first to achieve the Gold Standard IBM Software Practice Accreditation for IBM Marketing Solutions. If you'd like to explore how your organisation could take advantage of the latest solutions to help drive greater insight and value into your customer base, visit the Purple Square website or contact us by email at info@purplesquareconsulting.com You can also find additional insight into Generation Z by reading the latest blogs.
Uniquely Generation Z: What brands should know about today's youngest consumers
Download Exective Report      View Infographic