Added Wednesday 12 September 2018 by MHR Analytics
UK businesses are preparing for 2019 by boosting their IT spend.
New research indicates that nearly two-thirds of UK businesses are turning to IT to help them handle the double whammy of Brexit and falling customer demand. Nick Felton, Senior Vice President at IBM partner MHR Analytics, a specialist provider of business intelligence and analytics solutions, discusses the research findings.
Faced with the uncertainties still surrounding Brexit and a decline in customer spending, UK companies are investing in IT to help them build a sharper, more agile business. Our newly published report, Business Insight: The Data Surge, shows that…
93% of business chiefs expect to experience lower revenues in 2019
The factors considered most likely to trigger this situation were Brexit at 57% and reduced
customer spending at 22%
Companies are planning to invest in IT (59%), marketing (48%) and sales (46%) to tackle the
expected shortfall in revenues
The report is based on detailed polling of 200 senior decision-makers in large and medium-sized UK businesses.
A bumpy road ahead
It's clear that companies are planning major investment in specific areas to power through the expected drop in revenues. As you can see, departments such as marketing and sales are set for a cash injection, but IT emerges as the top priority by a significant margin.
UK companies need to do everything within their power to ready themselves for unpredictable market conditions. Data management and analytics are critical for helping organisations deliver significant cost savings by enabling accurate decision-making. As businesses plan their 2019 investments, this makes data management a wise choice in uncertain times.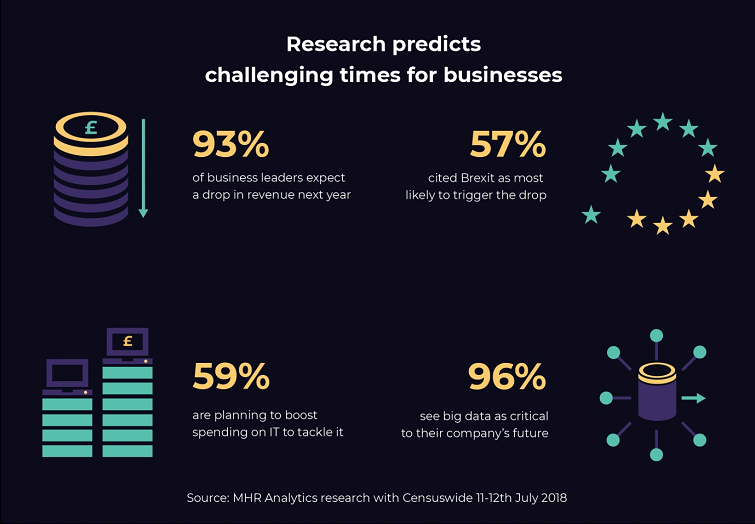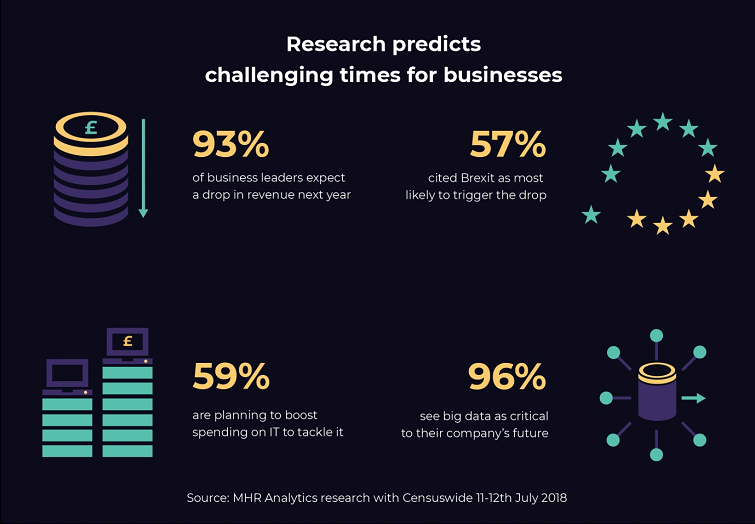 A missed opportunity?
Our research also found that while 96% of business chiefs say they understand the importance of data for their company's future, 1 in 10 is yet to implement a big data strategy. Similarly, only 4% of respondents recognise that managing big data will reduce administration.
Obviously, nobody can say for sure what state the economy will be in next year, but it's important to take action now to optimise data assets and start using them to make truly informed decisions. Analysing and acting on data should always be a priority, not just left until events trigger a change, ensuring that companies stay one step ahead of the competition.
The results of our research suggest that a sharper focus on data management and analytics could be of great benefit to companies in the present economic climate.
Download the full Business Insight: The Data Surge report at https://www.mhranalytics.com/the-data-surge-report/