Added Monday 13 March 2017
This blog explores insight from The IT Insider White Paper: Digital Transformation in the Financial Services Sector, which you can view and download here:
Turning fraud from threat to opportunity
Author: James Barrett, Account Manager, Portal
According to the Association of Fraud Examiners, a typical organisation loses approximately 5% of its annual revenues to fraudulent activity. Ensuring effective protection against fraud is therefore a primary concern for organisations in the finance sector, who are constantly challenged to balance opportunity with risk, whilst adhering to increasing regulatory demands. Any failure to address security risks is not only damaging to brand reputation and customer confidence – it can also have an immediate, adverse impact on shareholder value and the bottom line.
Increasingly sophisticated techniques are being used to defraud financial organisations and their customers – taking advantage of the relatively porous channels of the digital age, in which the majority of financial transactions are conducted online. At a time when both data volumes and the need to access and mine that data to extract the business value are growing, forward-thinking organisations are turning to new analytics capabilities. The aim is not only to help detect fraud attempts at the earliest opportunity, but also identify the culprits and gather the critical evidence that will be needed to ensure successful prosecution.
According to an IBM Institute for Business Value survey of 500 banking and financial markets executives whose responsibilities include fraud prevention, whilst for most institutions fraud is a serious problem, for others (14%) it has become a competitive differentiator. So, how have they succeeded in transforming their fraud operations at a time when the majority have yet to even begin the transformation process?
An integrated approach is key
To combat fraud effectively, organisations need to find a way of integrating all the disparate internal and external data sources that are relevant and available, so that they are presented with a 'single view of the truth'. This will eliminate the time consuming and error-prone approach of spreadsheet-based analysis – presenting accurate data in a visual way that enables analysts to tackle complex investigations quickly, with minimal impact on day-to-day operations.
Having previously relied on individuals' instinct and hunches, many financial organisations have moved to automated decision making, using rules to standardise the process so that it becomes more consistent and reliable. However, in today's digital world where the available data and market conditions are in a constant state of flux, this approach is inflexible and limiting, with static rules quickly becoming obsolete.
The key is to combine business analytics with predictive models that are able to consider and adapt to new data as it becomes available – becoming smarter and more effective over time. Predictive analytics also enables personalisation, so that informed decisions can be made quickly, but on a unique, case-by-case basis.
This level of integration allows organisations to draw reliable conclusions about future events – making confident predictions that they can proactively act upon, rather than simply reacting and fire-fighting. It also makes the discovery of hidden data and connections possible, helping to provide clear evidence against fraudulent activity.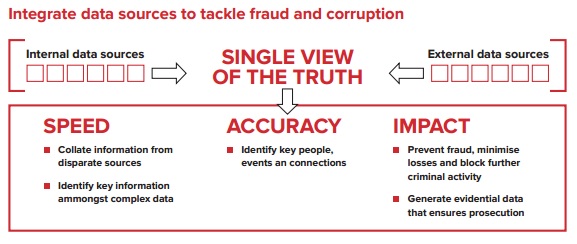 Cut costs and improve customer service through effective fraud management
Transformation initiatives require strong business cases to compete for a limited pot of funds, so whilst the direct cost savings in preventing fraud are substantial in their own right, it's the impact on customers that is proving the strongest pull for many organisations.
Integrated data analytics not only helps to combat fraud, but will also help to contain costs and deliver an enhanced customer experience. The deep insight that's uncovered through the variables and inter-relationships that define risk enables organisations to transform their processes and services to better fit customer needs, leading to happier and more profitable customers.
A good real-world example of this is Santam Insurance, South Africa's largest short-term insurance company.
Their use of business analytics to improve their fraud detection capabilities also saw a significant improvement in customer service, with claims settled 70 times faster than before.
Santam also saw a dramatic reduction in operating costs, with a more efficient and integrated process enabling them to cut the number of in-depth claims investigations. Santam's business analytics solution automatically scores each claim according to its risk level, and then recommends the appropriate processing channel for settlement or further investigation.
"Within the first four months, we had saved R17 million on fraudulent claims, and R32 million in total repudiations – so the solution delivered a full return on investment almost instantly!"
Anesh Govender, Head of Finance, Reporting and Salvage, Santam Insurance
As part of a wider digital transformation strategy, the ability to integrate disparate systems and tap into unstructured data through BI and predictive analytics, will play a major role in mitigating the risk of multi-channel threats – securing customer loyalty and shareholder value.
Download The IT Insider White Paper: Digital Transformation in the Financial Sector

Bringing together in-depth insight and real-world examples from a number of specialists within the financial services sector, this White Paper explores how you can:
Tackle digital disruption – driving deeper customer engagement and innovating to stay competitive
Create value for shareholders by focusing on areas that offer profitable growth at low cost and risk
Meet risk and regulatory compliance challenges head on