Added Monday 20 March 2017 by Prolifics
When it comes to cloud, go hybrid or go home
Author: Mike Owen-Lloyd, UK CEO, Prolifics
This blog explores insight from The IT Insider White Paper: Digital Transformation in the Financial Services Sector, which you can view and download here:
In this era of rapid digital transformation, where big data analytics, cloud and mobile rule the roost, there's no room for complacency. Fail to move with the times and invest in the emerging technologies that can enable business innovation and the competition will leave you behind – taking your customers with them. Move too quickly and without adequate strategic planning and you risk wasting a significant amount of time and money whilst trying to meet customer and end user requirements.
Digital start-ups are causing significant disruption within the financial services sector. Their ability to deliver highly-targeted applications – often more effectively and less expensively than traditional companies – means they are quickly entering the mainstream. Across online lending, money transfer, banking, insurance and credit ratings, these digital innovators are breaking the dominance of established players, so they have no choice but to sit up and take notice.
Take an incremental and integrated approach to digital transformation
But where to start? Legacy IT environments are not sufficiently flexible, scalable or reliable enough to meet changing business needs. However, simply investing in a technology refresh is not the answer – leading to more complex environments, with more endpoints, data sources and integration requirements. Instead, a wholesale business transformation strategy is needed – re-architecting the business into a digital entity. Start by mapping the current technology estate – which parts work well and need to be retained? Which elements have fundamental problems that are holding the business back? What do you want and need to change about the way the business operates and how can technology enable this?
Then, consider how you can enable innovation, without sacrificing your existing IT investments. Essential to this, is avoiding a disconnect between cloud and on-premise systems. Hybrid integration provides the answer – enabling: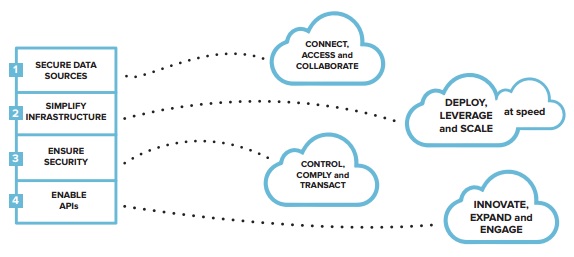 From chaos to cloud
With these 4 pillars in place, you can confidently transform your legacy applications and undertake new digital-led initiatives through a world-class integration platform, such as IBM BlueMix. In this environment, cloud-based systems are integrated with existing apps quickly and securely – halving the cost and deliver time for new services to drive a significant competitive advantage. And because you've de-coupled the individual components from the physical architecture, they can then be linked tightly together or easily extracted in the future, enabling your business to:
Make changes quickly

React to what's going on in the market

Gain commercial leverage over suppliers, with flexibility built in to your systems and processes
Watch the following videos to see how Prolifics helped Close Brothers Group, a British specialist financial services organisation, overhaul its business model to bring it up to speed in the digital era.
Download The IT Insider White Paper: Digital Transformation in the Financial Sector

Bringing together in-depth insight and real-world examples from a number of specialists within the financial services sector, this White Paper explores how you can:
Tackle digital disruption – driving deeper customer engagement and innovating to stay competitive
Create value for shareholders by focusing on areas that offer profitable growth at low cost and risk
Meet risk and regulatory compliance challenges head on