Added Wednesday 22 March 2017
It's business as usual in a hybrid world
Author: Stephen Allison, Account Director, Silverstring
This blog explores insight from The IT Insider White Paper: Digital Transformation in the Financial Services Sector, which you can view and download here:
The unpredictability and rapid growth of data volumes has become an accepted part of business today, but as a consequence, IT teams have less time to react to any back-up related incidents or problems.
Traditional approaches to data backup and recovery are notoriously unpredictable and largely dependent on the level of time and resource dedicated to undertaking manual monitoring, maintenance and reporting. To support a digitally enabled financial services business, continuous and clear visibility over the utilisation and performance of data storage is essential. And with organisations increasingly reliant on 24x7 secure data access, the focus needs to be on recovering service levels, as opposed to simply recovering data.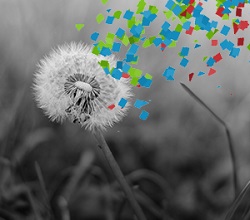 With security topping the list of concerns around digital transformation for most financial organisations, even those that feel confident that their data can be stored. transferred and accessed securely in the cloud need to consider the impact this will have on their backup and recovery strategy.
If you plan to redirect all users to the cloud should your on-premise infrastructure be unavailable for any reason, do you have the necessary bandwidth and network capacity available?

If the plan is to restore from the cloud to on-premises infrastructure, can you be sure that the restore will happen quickly enough to avoid significant business downtime?

Incidents rarely happen at a 'convenient' time, so even if a data recovery process is tried and tested, would it still meet recovery time objectives should the need arise to call it into action in the middle of the night or on a bank holiday?
Take the hybrid road to recovery
For those organisations that are serious about maintaining service levels in the event of unforeseen circumstances, a different strategy is needed. By adding service management automation and orchestration to the data backup and recovery process, it's possible to combine the flexibility of the cloud with the security of local, on-premise control.
This is why a growing number of organisations in the financial sector are choosing to invest in a hybrid cloud approach to data protection - integrating the management of backup and DR services into core storage management tools and services. This provides the capacity analysis needed to help contain data growth, as well as optimising the data backup and recovery architecture.
Recovery isn't just about data
The fact is that a disaster recovery strategy should be focused on recovering service levels, rather than data. Hybrid data protection enables organisations to meet recovery time objectives effectively – tiering different applications and data by business priority so that essential services are back up and running first. Orchestrating management of the DR process in this way delivers clarity and complete peace of mind.
Organisations going down the hybrid cloud route also gain a clear, single-pane-of-glass view of the performance and cost of data recovery – giving them a simple means of addressing any board-level or stakeholder concerns. Complexity is reduced throughout the management process, with quick-fix knowledge to help resolve administrative issues and easy access to historical data to enable trend analysis within the data protection environment. Essentially, this approach increases productivity, reduces costs and transforms an organisation's data backup and recovery platform into a hybrid cloud utility service. As a result, data protection is more transparent and predictable, more flexible and easier to manage.
One financial sector organisation that's already benefited from this approach is PGDS UK, part of the well-known Prudential financial services group.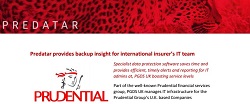 Like most enterprise IT teams, PGDS was faced with rising data growth, continuous change and a limited amount of time for experienced IT professionals to react to any backup-related incidents or problems.
With a large data storage estate to manage and minimal visibility over the environment, one of the biggest challenges PGDS had was the level of time and resource required to create regular KPI data and reports by manually merging spreadsheets.
As well as delivering on the objective to save time for admins thanks to timely alerts and automation of key tasks, integrating hybrid-cloud data protection has provided PGDS with complete visibility over the backup environment, including different business units and business-critical systems. This granular insight has increased awareness of the backup estate, allowing the PGDS team to more easily identify and resolve problem areas.
Having a shared interface and workflow also enables PGDS to call on third party specialist support as and when required. Meanwhile, the added automation delivered through the tool means that IT teams no longer need to spend time searching through key areas in order to identify and resolve challenges, giving admins more time to focus on important projects and improve the service they provide for the business.
You can download the full PGDS case study here
Download The IT Insider White Paper: Digital Transformation in the Financial Sector

Bringing together in-depth insight and real-world examples from a number of specialists within the financial services sector, this White Paper explores how you can:
Tackle digital disruption – driving deeper customer engagement and innovating to stay competitive
Create value for shareholders by focusing on areas that offer profitable growth at low cost and risk
Meet risk and regulatory compliance challenges head on