Added Monday 12 December 2016
Big data analytics, artificial intelligence (AI) and cognitive computing are all the rage as we near the end of 2016 and whilst they might not be something you'll find gift-wrapped under your tree, the presents, the tree itself and even your Christmas dinner may well be a by-product of these technology trends.
Could AI top the charts this Christmas?
Researchers at The University of Toronto have created a programme that can automatically generate a song, based on any digital image. Whilst it's unlikely to top the charts this festive season (or indeed at any time), this particular masterpiece – inspired by a photo of a Christmas tree – will almost certainly put a smile on your face!
"We are used to thinking about AI for robotics and things like that. The question now is what can AI do for us?" said Raquel Urtasun, an associate professor in machine learning and computer vision at Toronto's computer science lab. "You can imagine having an AI channel on Pandora or Spotify that generates music, or takes people's pictures and sings about them".
You can read more about how the programme was created in this article from The Guardian
Don't look a gift horse in the mouth!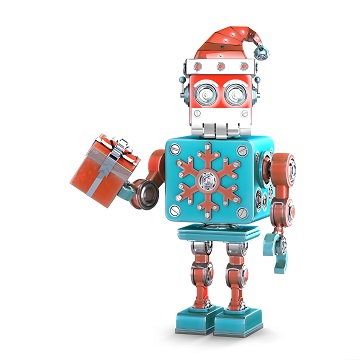 As retailers are now able to access more data than ever from more different sources than ever, they are perfectly positioned to enhance the customer shopping experience. AI-powered gift selection is now commonplace through a growing number of ecommerce sites. Online 'personal assistants' get smarter the more they interact with people – using insight from natural conversation and multiple other sources to predict what the customer is looking for.
A relative newcomer to the corporate gift market and a great example of this technology in action is Alyce, an AI-powered gifting platform that harnesses publicly available social data to narrow down the best gift ideas for either a company or an individual. The process is streamlined and user-friendly: Plug in the recipient's information and your budget, and Alyce taps into its marketplace of more than 15,000 options from more than 2,000 brands to select the top suggestions it thinks a particular client will like.
Will Alyce be able to predict what you would like for Christmas? You can try it out for yourself here
Food for thought
Whether you want to know the best way to roast your turkey on Christmas day, or what to do with all the leftovers to make a change from the traditional turkey sandwich, Chef Watson has lots of ideas to share with you. Some of them are admittedly a little strange, such as the suggestion to pair turkey with cocoa to create a new form of chili con carne, or the legendary 'brussel sprout burger', but as the saying goes, don't knock it until you've tried it!
Getting social around the tree
Another great example of how 'dark data' from social channels can now be accessed and analysed effectively was given in this recent IBM blog. The article explored the level of chat on social media about Christmas trees and what information could actually be gleaned by analysing that data.
This first image shows the level of conversation around real versus artificial Christmas trees: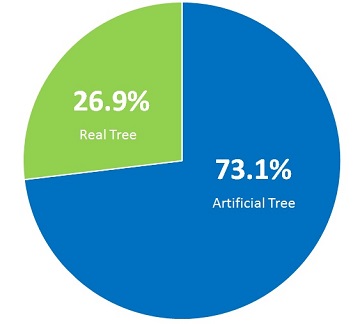 Looking at this data in isolation, you might well draw the conclusion that artificial trees are going to be more popular this year. However, using Watson Analytics for Social Media to also measure the sentiment in these conversations, a completely different picture emerges – showing just how much people favour real trees over artificial.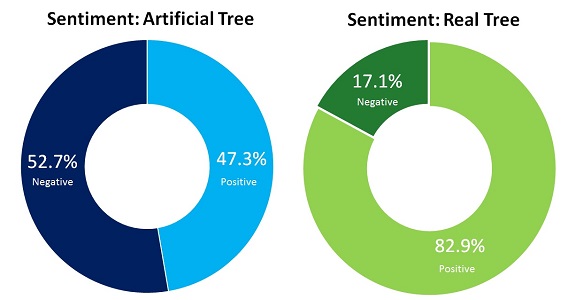 Christmas Stockings
This video shows Watson Analytics for Social Media in action, giving a real-world example of how an operations manager at a toy distribution company could use the technology to help ensure they have the right Star Wars toys in stock for Christmas!
Wishing you a very merry Christmas and a Happy New Year from The IT Insider.