Added Saturday 18 June 2016
In a recent Twitter poll, The IT Insider asked our followers what they currently see as the biggest obstacle when managing and responding to security incidents. The results were particularly enlightening, with the biggest percentage of respondents citing 'lack of collaboration' as their major challenge.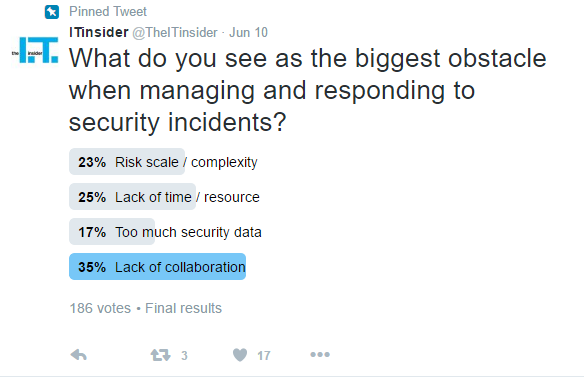 With the growing volume and sophistication of cyber security threats growing daily and grabbing headline news on such a regular basis, it was surprising to see that most of our respondents saw 'lack of collaboration' as the biggest obstacle. We felt that this result was worth exploring further.
Securing the C-Suite
Recent IBM research found that 94% of C-suite executives believe that it is 'probable' their companies will experience a significant cyber security incident in the next 2 years. But while 65% are 'highly confident' that their cyber security plans are well established, only 17% are actually 'cyber-secured' – demonstrating the highest degree of readiness. The report uncovered a 'lack of collaboration' – both within and outside of the organisation – as a major factor in being and feeling prepared.
Are you willing to share?
When it comes to cyber security, it's often a case of beating the bad guys at their own game. The most successful cyber criminals are known to collaborate by sharing information on the 'dark web', so why are the 'good guys' so reluctant to employ the same powerful weapon and collaborate by sharing incident information?
Over two-thirds of CEOs in IBM's study (68%) admitted that they are reluctant to share their organisation's cyber security incident information with external partners. Equally concerning though is that internal, cross-functional collaboration also appears to be weak - particularly among three specific C-suite roles –Chief Human Resources Officer (CHRO), Chief Marketing Officer (CMO) and Chief Financial Officer (CFO). Given that HR, Marketing and Finance have responsibility for the data most sought after by hackers, this could pose a major problem. These three executives also feel the least engaged with their organisation's security strategy, and are the least confident that their organisation's cyber security plans are well thought out and executed – suggesting a big issue in terms of communication, as well as collaboration.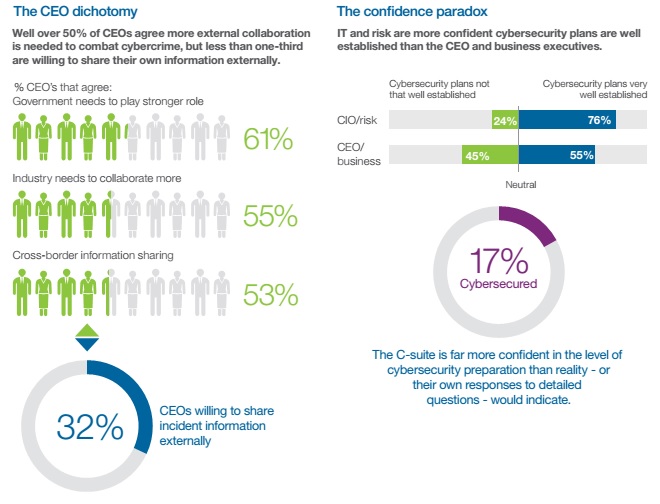 This video provides a summary of the highlights from the 'Securing the C-Suite' research report:
Alternatively, you can access and download the full report here
Strength in Numbers
Greater external collaboration amongst organisations can speed the development of collective knowledge and insights on where the threats are likely to come from and what form they are likely to take. Engaging with other members of your business ecosystem, such as vendors, partners and industry competitors, can enable you to leverage analytics and apply increasingly sophisticated cognitive capabilities that will minimise cyber security risks, whilst also sharing the cost and burden of protecting business-critical data.
Security and business leaders need to address the reluctance to share security data with appropriately vetted parties to avoid missing out on the opportunity to strengthen and automate their security solutions and strategies.
We explored the need for internal collaboration across the business in a previous blog titled 'Collaboration is key' – highlighting the need to strengthen engagement between IT and business units in order to minimise the risk of a data breach.
If you'd like to uncover additional CISO insights from IBM Security, this interactive tool will give you access to white papers, industry reports and other key resources