Added Wednesday 13 July 2016
In a recent Twitter poll, The IT Insider asked our followers what percentage of their 'big data' they believe is currently providing value to the business.
With 60% acknowledging that less than half of their data is accessible to them, and two thirds of those respondents believing that less than 20% is visible, unlocking the value of business data is clearly proving a major challenge for organisations today.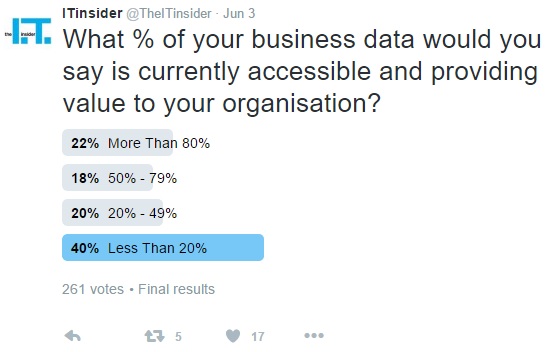 So, how can businesses start to access and make use of their 'invisible data' for competitive advantage in today's digital world?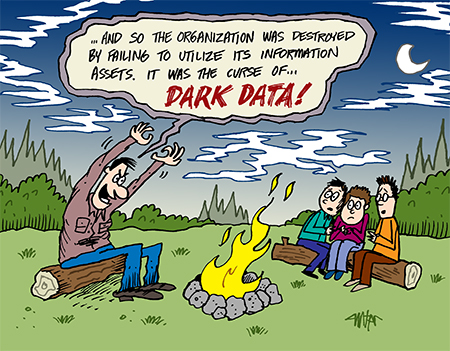 Invisible, or 'unstructured' data can include things like social media posts, emails, blogs, literature, reports, news articles, photographs, video, and audio recordings - all stored in a huge variety of applications and file formats. According to IDC, "unstructured content accounts for 90% of all digital information" and most of it can be categorised as 'dark data' – information that organisations process and / or store, but don't use for any particular purpose.
The implication is that if organisations are not accessing this invisible data when making decisions, they are using less than 10% of the information available to them and could easily be making the wrong decisions on that basis. The opportunity to gain a significant competitive advantage exists for those organisations that succeed in gaining insights from their invisible data.
Making your big data work for you
There are 4 key steps in developing a 'big data' strategy that will work for your business:
1. Collection
You may already have all the information you need in your sales records, customer database, email archives and social media channels. Alternatively, you may want and need to capture new data through such things as IoT sensors, customer apps, or changes to your website.
2. Storage
Where are you going to keep the increasingly high volumes of data that you collect, so that it's both secure and accessible? For SMBs, traditional hard disk storage may be sufficient, but for larger organisations with bigger requirements, a more sophisticated system such as Hadoop may be needed. For any size of organisation, cloud-based storage may be the answer – reducing the cost and security burden of investing in dedicated systems and data warehouses.
3. Analysis
When it comes to turning data into insights you will need to clean and format the data so that it's ready for analysis, build the analytic model and then draw conclusions from the resulting information. The answer lies in cognitive technology, such as IBM Watson, which does the hard work for you - making sense of ever-growing data stores to enable informed decisions.
Grasping this opportunity and building state-of-the-art solutions that meet this need, a new wave of start-up businesses is emerging. Using machine-learning technology, these companies are creating next-generation applications that take your data and highlight the most important insights, along with suggesting actions you may want to consider.
4. Communication
Having gained crucial insight from their business data, all too often organisations then miss a trick by using it to create lengthy reports or complicated graphics that nobody really understands. The most important part of the whole process is to ensure that your data insight is clearly and concisely presented and communicated to the people who will be responsible for taking action as a result.
Keeping IT real
Close collaboration between the IT team and business leaders is essential in ensuring that 'big data' investments are prioritised where they can deliver the most value. Keeping the focus on long-term business priorities will help to ensure that you look beyond the latest technology trends and buzzwords to build sustainable analytics capabilities and deliver meaningful value.