Added Wednesday 23 March 2016
The IT Insider recently conducted a Twitter Poll to gauge our followers' perception of Cloud Security, and the results make for interesting reading:
Question 1: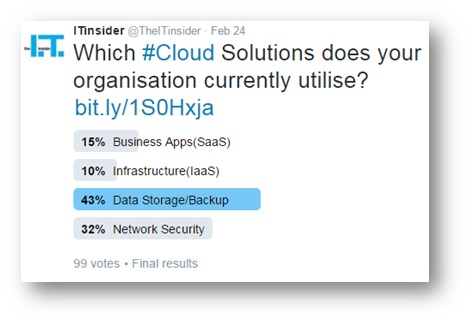 As anticipated, a high percentage of organisations have already adopted Cloud solutions for Data Storage / Backup and for Network Security. The uptake for Software as a Service (SaaS) and Infrastructure as a Service (IaaS) is currently lagging behind, but expected to show significant growth over the next few years. You can explore the adoption rate of different cloud services in more detail in this paper from the Cloud Industry Forum (CIF): UK Cloud adoption snapshot & trends for 2016.
This research from the Cloud Industry Forum (CIF) found that the overall cloud adoption rate in the UK now stands at 84% - measuring those companies using at least one cloud service. The research also shows that almost 4 in 5 (78%) of cloud users have adopted two or more cloud services.
Question 2:


Despite the growing adoption of Cloud Services amongst UK businesses, our poll suggests that there is still a major concern over just how secure data is when stored in the Cloud. These results are supported by further research from the CIF, as explored in our previous blog – 'Are you secure in the cloud?' - which found that fears over security, privacy and lack of control are still holding back the rate of cloud adoption.
IBM Cloud Security Enforcer is one solution helping organisations to overcome this issue – enabling them to discover, manage and secure employee use of cloud applications.
Question 3: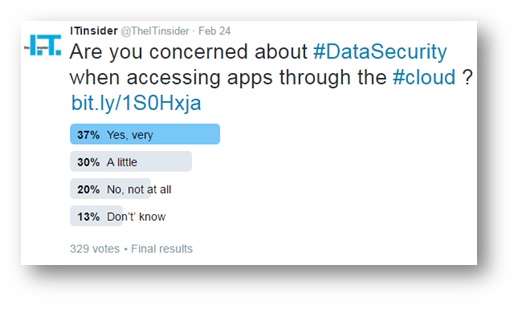 The answers to this particular question show that despite over a third of respondents voicing security concerns over storing data in the cloud, 50% of respondents have no major concerns in accessing apps through the cloud.
This is backed up by IDC's latest research, which found that cloud is becoming fundamental to the nature of the way business is done and IT is provisioned today. IDC predicts that by the end of 2018, 40% of all IT spend will be for cloud oriented technologies and delivery models – increasing to 50% by 2020. Read our blog to gain an insight into what's driving this increased confidence in the cloud.
Question 4: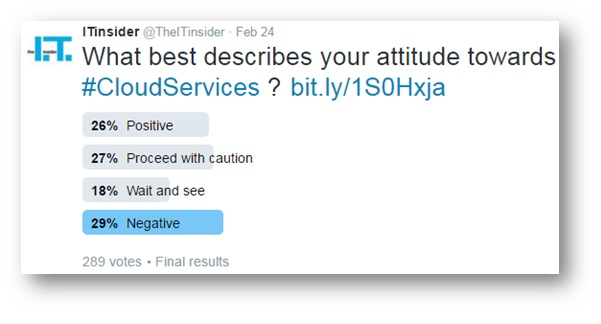 The responses to this question indicate that there is still a great deal of uncertainty when adopting cloud services, with an almost equal split between those organisations prepared to proceed – albeit with some caution - and those with either a negative or 'wait and see' attitude. The question for most businesses to answer is whether the potential benefits outweigh any concerns they may have over security.
This new found confidence is supported by a recent Gartner report, which highlighted the fact that reports of cloud security failure continue to be conspicuous by their absence, with virtually no mention of public cloud failures appearing in prominent studies, such as the annual Verizon Data Breach Investigations Report.
Read our blog to explore Gartner's view on misconceptions about the relative security posture of public clouds and the potential risk this poses to organisations today.