Added Tuesday 09 August 2016
IBM opens a cloud-powered pop-up studio in London
According to Andrew Fitzgerald, cloud marketing leader for IBM UK and Ireland, the idea to open a pop-up Cognitive Studio in the Old Street underground tube station in London was "an experiment."
"We wanted to find a new way of inspiring and engaging with customers, developers, businesses and the general public by demonstrating exactly what IBM — our people and our technology —are capable of," Fitzgerald told Cloud Pro.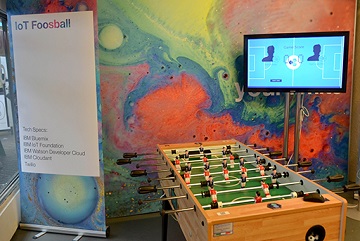 The studio's interactive, cloud-powered games and attractions give passers-by a look into how the IBM Bluemix platform is driving innovations such as Project Bluefoos, which makes a football table an Internet of Things (IoT) device that helps players improve their games. Also on display are a toy version of BB-8 from Star Wars which responds to Twitter commands, demos of Watson speech recognition technology, and a dollhouse that could record heat and humidity changes, among other things.
Those demonstrations are intended to catch the attention of anyone passing by, but business people can also come to the studio to check out IBM App Connect, which compiles information from common databases to help automate repetitive tasks.