Added Tuesday 02 February 2016
'Millennials' are not only the largest generation since the Baby Boomers, but also the most educated, most tech-savvy, most connected, thrifty, and socially and environmentally conscious. These digital natives are the force that's driving a new era for consumer marketing - one focused on values, transparency, relevancy and engagement. But what about business-to-business (B2B) marketing?
Whether they are subject matter experts supporting a team decision, or singularly responsible for selecting which supplier to work with, Millennials are having a profound impact on their own organisations, as well as those that want to do business with them.
The IBM Institute for Business Value have conducted a research study to find out how the consumer habits of Millennials are impacting their attitudes and approach when it comes to making B2B purchasing decisions. View the infographic and download the full research report to find out the results and what they mean for your marketing strategy.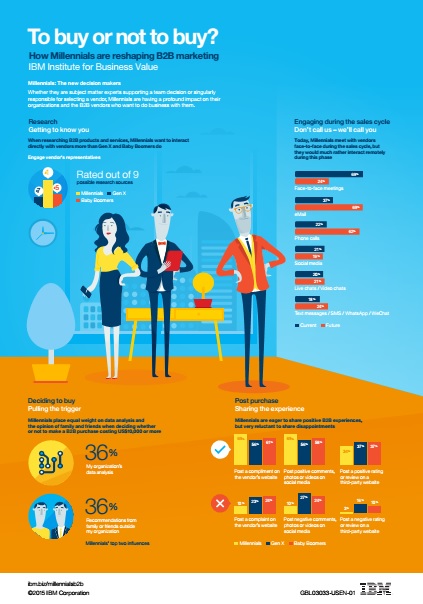 Click here to view and download this infographic
Download the full IBM Institute for Business Value Study:
To buy or not to Buy? How Millennials are changing B2B marketing