Added Monday 11 April 2016
In today's digital world, we are now producing an unbelievable 2.5 QBs (Quintillion Bytes) of data every single day. Not only is that volume of data difficult to comprehend, but with 80% of it existing in an unstructured form, it's also essentially invisible and of no value to business.
The good news is that cognitive systems (such as IBM Watson) have been making huge technical advances to help bring unstructured data to life - enabling businesses to understand the data, reason through it and learn from it.
Check out our guide to becoming a Cognitive Business below
WHY BECOME A COGNITIVE BUSINESS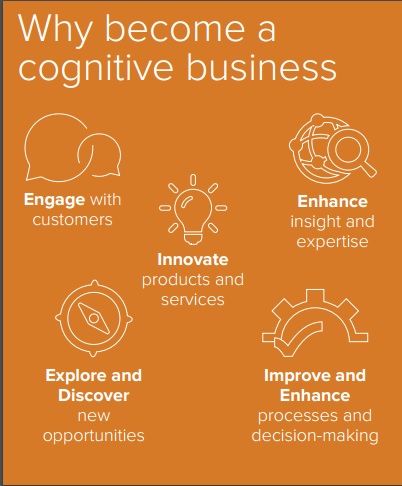 CUSTOMER ENGAGEMENT
By understanding context and aspects of personality, a cognitive business can personalise and deepen engagement with customers.
INSIGHT & EXPERTISE
By collating the most-advanced knowledge available and bringing it to everyone in their organisation, a cognitive business can significantly enhance their level of expertise.
INNOVATION
Through interaction with customers, a cognitive business can create products and deliver services that continually evolve and improve to meet changing demands.
EXPLORATION AND DISCOVERY
By spotting patterns in both traditional data sets and unstructured data, a cognitive business can accelerate high-stakes research and time-to-market.
PROCESSES AND OPERATIONS
By leveraging vast quantities of both unstructured and structured data, a cognitive business can continually improve its processes and decision-making.
WHY SHOULD LINE OF BUSINESS LEADERS CARE ABOUT COGNITION?
FINANCE LEADERS: Accelerate business performance and profitability
Gain new insights into drivers of revenue, profit and cash flow from all types of data - inside and outside your organisation
Quickly interpret data from financial and operational sources to identify potential new threats and opportunities
HR LEADERS: Harness the knowledge and power of employees
Get the insight needed to adapt the workforce as market demands dictate and create a collaborative experience across the business
Capture the wealth of data and insight about your employees that will build on their talent and shape the future of the business
SALES & MARKETING LEADERS: Drive innovation, insight and customer engagement
Understand each of your customers as an individual – making personalised customer engagement a part of every touchpoint
Use cognitive analytics to make actionable decisions on the best way to market to your audience
HOW TO BECOME A COGNITIVE BUSINESS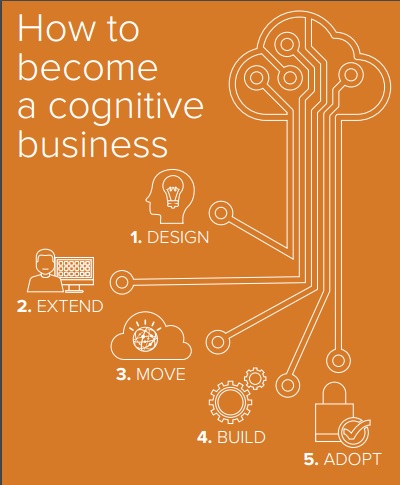 DESIGN A COGNITIVE STRATEGY
Which of your products, services, processes and operations should be cognitive?
EXTEND COGNITIVE WITH ANALYTICS
Make sure you can collect, manage and interpret the right data – whether structure or unstructured.
MOVE TO A COGNITIVE CLOUD
Optimise what you get out of your cloud services, data sets and cognitive APIs
BUILD A COGNITIVE INFRASTRUCTURE
Ensure your IT infrastructure is built for cognitive workloads so it can handle the data and analytics required by cognitive services
ADOPT COGNITIVE SECURITY
Be certain that every connection, every bit of data and every transaction is secure.
Watch this video to gain an insight into how IBM Watson is helping to support cognitive business environments
Organisations have only just begun to scratch the surface of what becomes possible with cognitive computing capabilities. Through research from the IBM Centre for Business Value, they have uncovered multiple innovative opportunities across different industries for those organisations prepared to become early adopters. You can find out more by downloading the two-part Executive Report here:
Download Part 1: Your Cognitive Future – The Evolution of Cognitive
Download Part 2: Your Cognitive Future – Kick-Starting Your Cognitive Journey