Added Monday 23 May 2016
Your customers are living in a mobile-first, omnichannel world – using their smart devices to research products before they buy, communicating with colleagues to get their opinions and recommendations, and drawing their own conclusions based on the huge pool of information that's now readily available to them.
Making direct, competitive comparisons is now the norm for most consumers in advance of making any significant purchase, so how can you not only compete, but thrive in this new business world? The answer is by keeping your customers at the centre of everything you do.
In a recently commissioned Thought Leadership Paper, Forrester explored the key things that marketers need to understand in order to engage with the new generation of mobile-savvy consumers:
Follow and engage with your customers on their journey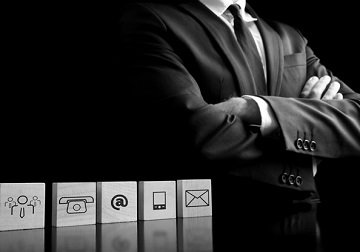 Whilst there is no dispute that the number of consumers using mobile devices to research and purchase products, consult with friends about their preferences, and complete transactions is growing steadily, Forrester's research shows that in reality, 90% of sales still occur in retail locations versus online. For mobile commerce to achieve its potential therefore, you need to engage with your customers wherever they are, in real time, with the most impactful message or offer available. Smart devices now mean that customers are able to access their email, social media accounts, websites, mobile apps and text messages – anytime and anywhere. You need to stay with them throughout that journey across all the different channels, as well as once they arrive in store – ready to make a purchase.
Enhance the customer experience at every touchpoint
It's proving increasingly essential to ensure that your mobile apps work seamlessly with other marketing channels, to enhance the customer experience.
In Forrester's Thought Leadership Paper, consumers were asked to rank their most valued interactions with a mobile app. The results made for interesting reading with 59% of consumers finding a direct email response most valuable, 44% preferring a response by phone, and 30% valuing real-time offers based on history and location most highly.
As shown in the graphic below, Forrester's research also highlighted the fact that within today's digital business landscape, mobile is currently the only channel that is consistently used to engage with customers at every stage in their journey. Consumers, on the other hand, expect the entire marketing ecosystem to support their mobile engagement, including web, email, messaging and social – showing that organisations have some significant room for improvement in order to meet their customers' needs and expectations.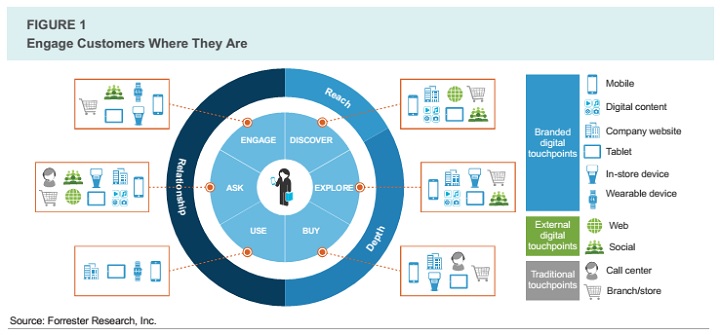 Let your customers tell you what they want
Forrester's research discovered that consumers expect the organisations they buy from to give them ultimate control over the information they receive and share – happily trading their data and insight in return for clear customer benefits. As shown in 'Figure 3', this level of mobile interaction would prove beneficial to both parties and demonstrates a clear route forward for those organisations wanting to capitalise on today's mobile opportunity.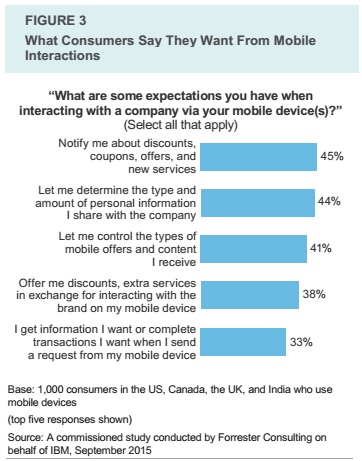 How can you get to know your customers better?
Take a look at this short video from IBM that shows how Customer Engagement solutions work in practice – delivering significant benefits and a measurable return on investment.
A Deeper Insight
To explore the route that organisations need to take in collecting, analysing and utilising customer engagement data for competitive advantage, The IT Insider spoke to DeeperThanBlue – specialists in digital channels transformation (providing IT consultancy, design, implementation and support solutions) for commercial clients across multiple sectors.