Added Wednesday 17 February 2016
When planned, developed and implemented well, the use of gamification within business applications can change behaviour:
Boosting interaction and productivity
Increasing revenue and ROI by strengthening customer loyalty and motivating employees
Helping to drive strategic innovation
However, all too often, the reality fails to meet expectations, with a lack of engagement meaning wasted investment. Indeed, Gartner has predicted that 80% of gamified applications will fail to meet business objectives as a result of poor design.
Explore Gartner research on the use of gamification as an engagement strategy for business and IT
The investment in gamification is wasted when it's driven by novelty and hype, rather than being designed to make and sustain a change in behaviour. It's critical for example, that the end game involves meaningful incentives that will truly engage and motivate the intended audience, as opposed to using straightforward rewards.
A recent survey by Technology Advice focused on how employees feel about the use of gamification – something that organisations often fail to take into account. The results made for interesting reading: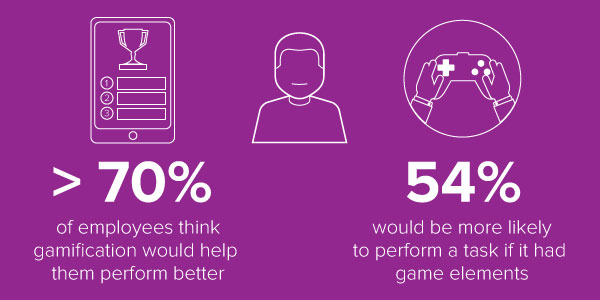 With a surprisingly high percentage of employees indicating that game elements would not enhance their productivity, the results suggest that there's no definitive answer on the value of gamification in business apps. It will depend on the intended audience and what the application sets out to achieve as to whether the level of engagement will justify the investment.
Watch this video to learn how gamification in business has become an increasingly important motivation tool:
How can gamification help to drive innovation?
More recently, gamification is being used in a corporate environment to help drive innovation. Organisational structures can often prove a major obstacle to thinking and behaving in a way that will take the business in a new direction. Gamification can allow businesses to create a parallel, virtual organisation and team structure that cuts across all the traditional silos and barriers – providing a risk free environment to try out and share new ideas. With the 'players' staying anonymous, the usual politics become irrelevant – enabling more junior employees to contribute and perform on a level playing field, without the fear of not being taken seriously.
To find out more, read this recent article from Forbes, which explored how one organisation is working with large multi-nationals to help accelerate innovation through gamification – encouraging employees to invest their own time to participate in games that are driving significant value to the business.