Added Tuesday 21 June 2016
Although the industry will remain dominated by 4G LTE devices and networks for some time to come, investment and advancement in 5G mobile technologies is rising fast. In fact, according to Information Age, a variety of factors — including the growth of social media, the increased availability of smartphones, a huge upturn in the use of video and the advancement of Internet of Thing (IoT) technologies — have made the shift to 5G an inevitable occurrence.
The expectation however is that we'll need to wait until 2020 at the earliest to see 5G in action – driven by the Tokyo Olympics – and it will be several years from then before 5G reaches mainstream. The challenge for 5G wireless access will be to support a massive increase in traffic in an affordable and sustainable way - ensuring a dramatic reduction in the cost and energy consumption of data delivery.
What is 5G?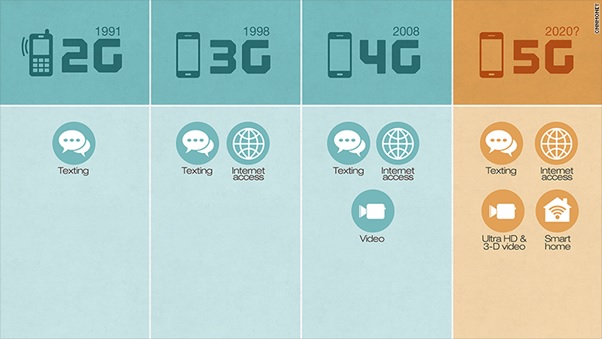 Everything you should know about 5G
How will 5G benefit your business?
1. Boost data speeds: Applications will take seconds rather than minutes to download.
2. Lower latency: Deliver data at a much faster rate, with an average latency of less than 1 millisecond, rather than 50 milliseconds with 4G LTE (Ericsson).
3. Support the rise of the IoT: The extremely fast wireless connection speeds provided by 5G will help ensure new types of smart devices can instantaneously receive the data needed to perform their functions on demand.
4. Support a variety of new devices: 5G mobile is being designed from the ground up to support a wide array of devices, enabling an increasingly mobile workforce and improved customer interactions.
5. Improve user experience and productivity: 5G will help to meet the growing expectation for on-demand access to data and applications - delivering faster network connections and more powerful devices that will optimise the customer experience and improve worker productivity and collaboration.
Why should you get excited about 5G?
The attraction of 5G for today's business leaders was highlighted in a recent Twitter poll conducted by The IT Insider, with almost half the respondents recognising that multiple benefits would drive them towards investing in this new technology.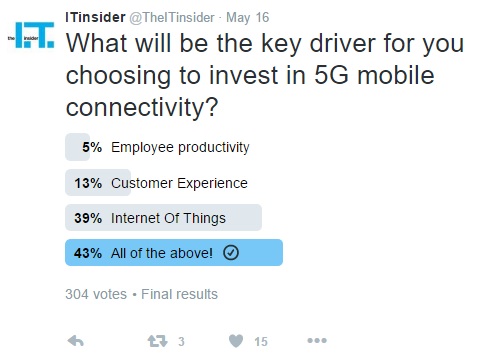 Putting these more obvious benefits to one side though, a recent blog by Raconteur explored some of the things that should excite us most about the prospect of 5G on both a personal and professional level:
There could be as many as 8.6 million connected vehicles on UK streets by 2020, with 5G enabling real-time, detailed monitoring of journeys - exchanging information with each other and roadside sensors about traffic conditions and local weather, for example.
Smarter marketing will be enabled through 5G and IoT, with advertisers able to target customers based on their location and personal preferences. 5G holographic projection will let users view 3D video without 3D glasses, allowing customers to test-drive a car virtually or walk through a virtual showroom.
With the increased speed of 5G, remote automation of critical machines will be made easier – improving health and safety, staffing and infrastructure costs in potentially dangerous work environments, such as mines, power plants, construction sites or oil platforms.
5G will deliver more scope for artificial intelligence and robotics in manufacturing environments. By using the cloud for access to almost unlimited computing power in real time, manufacturing robots need only include low-level controls, sensors and actuators, making them more flexible, adaptable and cheaper.
5G will enable remote collaboration, with people on opposite sides of the world able to use virtual reality to meet as if they were in the same physical location. This will save time and cut costs, and could dramatically improve the effectiveness of customer service, distance learning and trouble-shooting.
Each new generation of wireless technology comes with a range of new benefits for consumers and businesses. While 5G mobile is still in a very early and somewhat conceptual stage, enterprises should at the very least be planning to incorporate it into both their IT initiatives and their competitive business strategy going forward.