Added Tuesday 18 October 2016
The fact is that traditional IT environments can't keep up with the growing demands on business leaders to ensure faster time-to-market and digital innovation to stay ahead of the competition. Cloud is often mooted as the obvious answer to meeting this challenge head-on, but also raises questions over user access, effective integration with existing IT platforms and reliable security.
The IT Insider spoke to Global Technology Solutions Provider, Prolifics, about how organisations can introduce a successful hybrid cloud model to enable business innovation.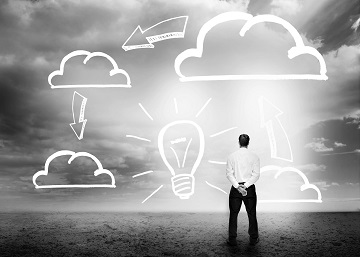 The need to innovate to stay on pace with user demand and ahead of competitors, is driving many organisations to embrace new software functionality that's now readily available through the cloud from SaaS vendors. The cloud model enables organisations to free themselves from the restrictions of on-premise deployments so they can deliver new, cutting-edge applications and features to their customers far more quickly and cost effectively – helping to keep them ahead of the game.
Budgets for cloud computing have grown steadily over the last few years, with industry studies suggesting that cloud computing initiatives are the most important project for the majority of IT departments today. Globally, enterprises are opting for hybrid cloud technologies to leverage cost savings, whilst enabling their in-house technical expertise to focus on business innovation, rather than simply 'keeping the lights on'. Organisations can easily shift their non-critical data and applications from private to the public cloud to reduce web traffic and the next 5 years is likely to see an explosion in the adoption of a hybrid cloud approach to IT service delivery.
According to a Market Forecast Report for the Worldwide Hybrid-Cloud Computing Market from 2016 to 2022, nearly 82% of enterprises will have a hybrid cloud strategy in place for 2018, with more than 60% of large enterprises planning to implement hybrid clouds by 2020.
Crucially, organisations are beginning to gain a clear view of what hybrid cloud is and how it can work for their business – getting increasingly sophisticated in the way that they integrate public cloud services, rather than simply using cloud alongside existing on-premises IT. That's a really critical factor in the success of cloud-based projects, because IT teams are still having to deal with managing legacy and existing applications, whilst also trying to reinvent what they're doing as a business. The challenge is to ensure that different workloads have the ability to work seamlessly from a user-perspective – whether they're hosted on-premises or in the public cloud.
So, how do you go about preparing your IT infrastructure for cloud?
Before embarking on a cloud project, you need to:
Optimise and consolidate your existing IT systems and strategies to minimise the total cost of ownership – ensuring best practice across the organisation
Enable Hybrid Cloud by using templates and mediations to rapidly and securely integrate with and access back-end systems, along with APIs to simplify and govern data access
Prepare for Hyper Scale by enabling an elastic infrastructure that can handle increased and unpredictable workloads – automating health monitoring and corrective actions
Use Public Cloud (SaaS) strategically to avoid the hassle and expense of building, operating, and maintaining both app and infrastructure – only paying for what you use and avoiding 're-inventing the wheel'
Develop Next-Generation, engaging Apps where they can support and accelerate business objectives – mix and matching ecosystems for complete flexibility, the highest quality and minimal cost
Recognising the need to adopt cloud technologies alongside your legacy infrastructure as a means of working smarter is one thing, but actually selecting the right technology and approach can be a daunting and complex process for many organisations. To help you define the right hybrid cloud strategy, Prolifics have developed our complementary Cloud Readiness Assessment Workshop – ensuring that the route you take will maximise the speed, simplicity, cost savings and flexibility you need to support business innovation. The following short video will give you an overview of the Prolifics' approach to integrating hybrid-cloud:
This article was written by Mike Owen-Lloyd, UK CEO of Prolifics.
To find out more, contact solutions@prolifics.com or visit the Prolifics website