Added Wednesday 09 December 2015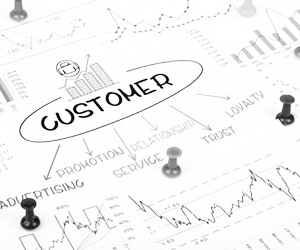 It seems that Business Intelligence may no longer be sufficient for those organisations that want to strengthen customer relations and lock out the competition. Gaining visibility into what's already happened and where your business is at right now is all well and good, but the bigger question is what direction you're heading in next – something that will require a much deeper and more specific insight into your customers' needs, wants, intentions and behaviour. The reality is that those organisations who can predict intelligently, will do a much better job of winning, retaining and servicing their customers.
Predictive Intelligence will enable you to look to the future, combining past, present and future views of data from both internal and external sources to help make informed decisions that will drive a competitive advantage and accelerate revenue growth.
PREDICTIVE CUSTOMER ANALYTICS IN ACTION AT CHRISTMAS
A simple (and topical!) example of how predictive analytics can make a big difference is in Christmas tree sales. There are few products with such a short and seasonal shelf life, so making sure the right quality and quantity of trees are in stock at the right time is critical. When one large home improvement retailer analysed their data for Christmas tree sales beyond the obvious peak sales between December 1st and 25th, they found that they had 2 distinct types of customers with very different purchasing criteria. The first wave of sales was to retail and commercial customers, who wanted to purchase larger trees, but were happy if they only lasted until Christmas Day. The second wave of sales was to more price sensitive consumers, who wanted smaller trees that would last into the new year. Valuable information which has enabled them to significantly reduce the number of trees going to waste and ensured improved customer satisfaction in the range of Christmas trees on offer.
WHY SHOULD YOU USE PREDICTIVE CUSTOMER ANALYTICS?
Determine the most appropriate action at any particular time for any particular customer
Predict how the customer is feeling and what they want / need in real time
Deliver relevant and well-timed offers and communications to the customer that provide real value and encourage loyalty
Build stronger relationships by ensuring consistent, personalised service delivery – resulting in lower rates of customer attrition
Provide integration of analytics across supply-chain and line-of-business operations to ensure consistent interactions with the customer that enhance strategic objectives.
WHAT DO YOU RISK BY FAILING TO PREDICT CUSTOMER BEHAVIOUR?
A lack of visibility and understanding of all available customer information during interactions can result in customer frustration and a loss of loyalty due to:
o inconsistent service delivery
o communications that simply aren't relevant
o poorly timed offers that don't add value to the customer
Without having knowledge of past, present and future events to hand, it's easy to miss opportunities that others may well pick up on – losing valuable business and getting left behind the competition. Today's information age means that it's far easier for customers to make a direct comparison between you and your competitors, and far easier for your competitors to get to know your customers!
A report by TDWI Research looked at the business value delivered by Predictive Analytics – suggesting the best ways to get buy-in from business leaders:
Use research and statistics to support your business case
Findings from IBM's Business Value Study - Converting Big Data And Analytics Insights Into Results – which looked at the difference in business growth between those organisations deriving value from their big data through analytics, compared to those lagging behind, found that;

75% of Leaders and 70% of all other respondents attributed the value of analytics solutions to their ability to increase revenues, improve the speed and accuracy of decision making, and generate innovative ideas
Only 25% of Leaders cited the primary source of value as cost-containment activities, such as reducing operational costs and improving efficiencies
More than 40% of Leaders reported an ROI within the first 6 months of investing in analytics, with another 25% achieving ROI within 12 months
60% of Leaders have predictive analytic capabilities – compared with only half of other respondents

Do a proof of concept – limiting the scope to minimise cost and disruption, whilst ensuring the results have a measurable and significant impact
Build a solid Business Intelligence (BI) foundation that the organisations already understands and values before introducing predictive analytics
Integrate with existing business processes to ensure that the analytics will not just be admired, but acted upon. "Analytics in a vacuum doesn't get you anywhere"
Predictive Analytics is potentially a business game changer and it's never been more relevant or easier to implement than it is today. Whether an SMB or large enterprise, organisations share a common goal in needing to identify market trends, understand their customers and tackle inefficiencies more quickly and decisively – making best use of growing data volumes to gain and maintain a competitive advantage.