Added Thursday 03 December 2015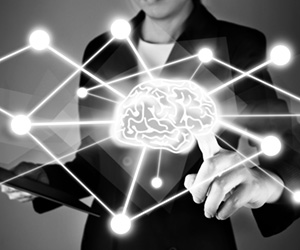 After decades of frustratingly slow progress for the techno-geeks among us, could it actually be that we're now entering an era in which 'artificial intelligence' – reborn as 'Cognitive Computing' – can have a real and positive impact on our daily lives?
The term 'artificial intelligence' has been part of our world since 1955 and over the last 60 years, has been frequently debated and featured in many a Hollywood blockbuster. Movies such as 2001: A Space Odyssey, The Matrix, BladeRunner, The Terminator and Star Wars have all portrayed their own idea of a future in which technology 'trumps' humankind – some more successfully than others!
Unlike their 'artificial' predecessors, cognitive systems are not simply programmed to generate pre-determined outcomes, but are instead able to learn and reason from their interactions with humans and the wider environment – making sense of both structured and unstructured data to generate meaningful knowledge and reasoned arguments. No longer battling against human counterparts like in the movies, but simply augmenting human intelligence to help business, science and society advance more quickly.
The true potential of the cognitive era will be realised by combining the powerful data analytics and statistical reasoning of machines – illuminating patterns and insight in data that humans can't possibly compute quickly enough – with the unique subtleties, values and common sense that make us human.
Using cognitive systems such as IBM Watson, businesses and organisations are already taking giant leaps forward in their ability to derive real value from their data. This is critical, given that Gartner estimates that the world's information will grow by 800% in the next 5 years, with 80% of that data unstructured. As Dr. John E. Kelly III, Senior Vice President for IBM Research and Solutions Portfolio states in his newly released White Paper:
"In a global economy and society where value increasingly comes from information, knowledge and services, this data represents the most abundant, valuable and complex raw material in the world. And until now, we have not had the means to mine it effectively."
Watch this video to hear some specific examples of the significant impact that IBM Watson is already having within business today.
Find out about the new iPhone app that uses the power of IBM Watson to predict which presents will be most popular this Christmas.